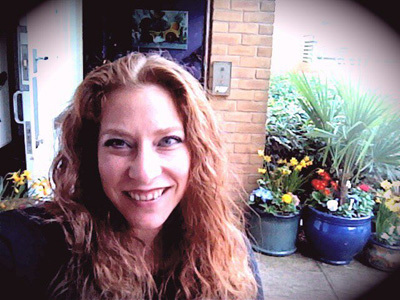 Shana Pezaro has been a Hyde resident for five months and is loving being in her new home. She is bringing colour and joy to her neighbourhood by potting plants in front of her ground floor flat in Portslade, Brighton. Things however were very different in 2016 when Shana faced going into a temporary care home if she couldn't find a suitable place to live.
Shana's story
I have to admit 2016 was a particularly difficult year. Sadly after living 14 years in the same flat, my landlord passed away and I had to find somewhere else to live. Although the place was in a perfect location and had a great garden it wasn't suitable for my needs.
"I was diagnosed with Multiple Sclerosis (MS) at 28 and my condition worsened over the time I lived there. I ended up living out of one room because it was getting too difficult and dangerous for me to move around my own home. I'm fiercely independent and just adapted to my situation but when I had to find another place to live I knew I had to make sure it was right for me.
Searching for the right home
In a year I had only seen two suitable properties but most of them were the other side of Brighton, away from my friends, carers and the train station. I have to admit I didn't tell many people that I was applying for a home through "Homemove" or how desperate my situation was.  I was in danger of being isolated and that scared me. I was also facing the possibility of going into a care home which is something I really didn't want to do.
Thankfully the last place I saw was perfect. I was able to move in straight away. 
My new home is on the ground floor and has already been adapted to my needs. It is wheelchair accessible and even has everything set up in the bedroom if I need hoisting equipment in the future. I have my own car parking space with a remote control bollard which means my carers always have a space to park when they do their daily visits. It's also in the perfect location, close to all my friends and the train station. 
Everyone at Hyde has been really helpful. Whatever my issue I know I can get the help and support I need. I've definitely made the right decision moving here.
New Year, new start
It was such a relief to start 2017 in my new home. I could get back to being me and doing the things I love.
From a very early age I've enjoyed gardening and plants. I find it very therapeutic and love to see a mass of colour from a range of flowers. As soon as I moved in here I saw the opportunity to plant some pots around my front door. Although I don't have a garden anymore I'm creating my own little oasis and brightening up my neighbourhood at the same time. I often get people stopping by to chat, saying how nice everything looks and how they enjoy walking past here. I've even had a very kind person leave me some pots to fill. It's a great feeling knowing that I'm making other people feel happy, whilst doing something I love.
The future
Having MS means that I can get tired very quickly so it's important that I have somewhere I can relax and recharge. My front door leads to my independence. I'm so much happier now. I can carry on doing everything I enjoy and pick up on things that I had to drop when I was looking for a home, including all my voluntary work.
I have the confidence and peace of mind that even if my MS gets worse, I will be able to safely and independently live here, close to my friends and carers. I'm so happy and grateful to start a fresh year in a new home thanks to the Hyde Group.