Posted on 12 September 2023
We've received the SHIFT gold award for our sustainability assessment
We're delighted to announce that we've won the gold award in this year's Sustainable Homes Index for Tomorrow (SHIFT) assessment and were ranked 7th out of 40 organisations that were assessed.
Luke Driscoll, our Asset Management and Sustainability Director said: "This is a brilliant achievement to win the gold award, improving from last year's silver. This is our second year as a SHIFT member, continuing to help align our priorities and set out a clear plan to reduce our carbon footprint.
"This award demonstrates our commitment to sustainability and recognises and rewards the efforts we've made in line with our objectives."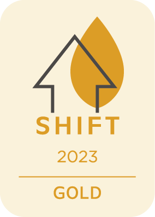 SHIFT is an independent body that helps building owners to be more environmentally-friendly, and our sustainability performance was assessed on the following:
Customer engagement
Existing homes and offices
New builds
Supply chain
Strategy and management.
The report also looks at our use of energy, transport and travel, climate risk, biodiversity and how we source our contracts and suppliers – giving an overview of our environmental footprint.
Diana Lock, our Energy Manager said: "SHIFT is the sustainability standard for the housing sector. We'll continue to use the findings of this assessment to monitor our environmental credentials and identify areas for improvement.
"We're working hard to make our homes, offices and supply chains as environmentally-friendly as possible, and this award goes a long way to strengthening our carbon-zero goals."