Posted on 17 November 2023
Peggy who's been a Hyde resident for more than 50 years, recently joined the centenarian club with her daughter, grandchildren and other relatives by her side. To add to the festivities, she also received flowers from our Chief Executive Officer, Andy Hulme.
Peggy still lives on her own and enjoys the occasional social put on by Donna and Wally, who are also Hyde residents.
Peggy is an Army veteran who served in the Auxiliary Territorial Service, which was the women's branch of the British Army during World War II.
No stranger to getting involved, she has also served on the resident's association, with long-time friend and fellow Hyde resident Mike. The association led on major decisions for our Gosport Towers, including recruiting our caretakers.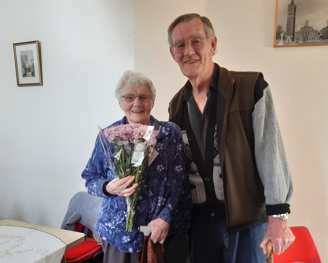 At a recent coffee morning where she won a line and four corners during a bingo game, Peggy and Mike took a trip down memory lane. They reminisced about the time they both served on the committee and travelled to London for meetings.
Peggy said: "We've got some caretakers, they're absolutely marvellous. You can't go wrong with them.
"I like my flat. I originally moved in with my daughter – now she's married and has children and horses. I really enjoy living here, though it has changed.
"It's been great living here. We've had some lovely times."