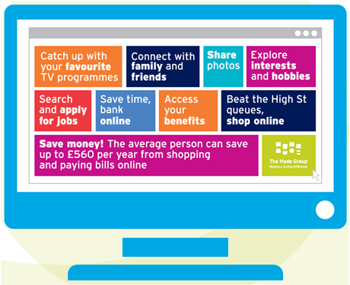 There's so much you can do online – you can connect with friends and family, save money and learn about the things that interest you. However, we understand that technology and the internet can be scary
With free internet access (at selected locations) and assistance in sourcing affordable equipment, we can help any Hyde resident to get connected, build your confidence and feel safe online.
Where can you get online?
A number of our local community centres run regularly weekly drop-in sessions where you can use the IT facilities available or even learn new skills with our friendly tutors and volunteers. Find out more about where you can get online.
Affordable equipment and internet access
Don't have the equipment? Not to worry, we have a partner who specialise in refurbished laptops and computers. We understand that computer equipment is costly and have therefore come up with some deals to help you. We have teamed up with Happus to provide residents with offers on affordable equipment and connectivity.
Helpful how-to guides
A series of useful guides to digital photography, social networking, email and many more.