How often are kitchens and bathrooms replaced?
Every year we replace or improve the kitchens and bathrooms of a large number of our properties. However, we do not have a fixed timetable for replacement, as the length of time that a kitchen or bathroom will last varies greatly due to usage.
If your kitchen or bathroom needs fixing, please contact our repairs team. If our contractors find that repairs aren't enough we will review them for replacement, which may require another visit to your property from one of our surveyors. Each property will be considered on an individual basis, and we will attempt to carry out a repair before replacement.

Find out what happens when we install a new kitchen or replace a bathroom in your home.  
The Hyde Quality Standard - changing the way Hyde modernises homes
The Hyde Quality Standard (HQS) involves residents fully in the replacement of their bathrooms, kitchens, windows and doors, giving them wider choice and allowing them to pay to upgrade certain items or to supply their own, fitted at no extra cost.                
The benefits of the HQS 
Offers greater choice for residents
Embraces our partnership approach with our contractors
Gives residents a sense of pride in their homes
Boosts customer satisfaction
Reduces rent arrears and improves gas compliance through Hyde Rewards
How it works 
High level base specifications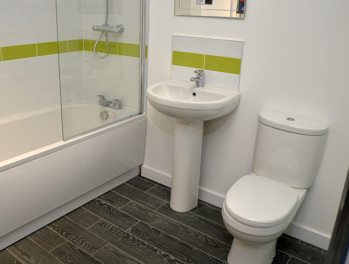 Residents add their personal touch at no cost, with a wide choice of fixtures and fittings available, including kitchen worktops, bathroom taps, tiles and front door styles and colours. 
The chance to enhance  
Residents pay for higher specification options, including heated towel rails and full-height wall tiling.  
Adding that personal touch  
Residents supply their own items or materials, such as tiles, taps, kitchen sinks and bathroom suites – all installed at no cost to them.  
Read our frequently asked questions for more information.
What our residents say  
When we had our new kitchen installed, we decided to supply our own tiles and some appliances, which were installed at no charge. My new kitchen is amazing – I'm really happy with it.

Maxine Robson, Hyde resident, Orpington.