Posted on 21 December 2022
Hyde colleagues get stuck in at Stonepillow's charity shop in Chichester
Earlier this month, members of our staff LGBTQA+ network group PRYDE volunteered with Stonepillow, a homelessness charity in Chichester. Our colleagues spent the day helping at the Stonepillow charity shop and got stuck in with sorting out items for the shop floor, organising clothes for sale and  tidying up.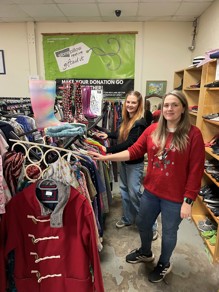 Stonepillow supports and empowers homeless and vulnerable people, focusing on independence and wellbeing. The charity relies on food and clothing donations from the local community to help tackle homelessness, providing food and shelter. Stonepillow also has an online Ebay shop to make donating easier than ever.
In February 2022, Stonepillow came to talk to PRYDE during LGBTQ+ History month about the great work they are doing to support LGBTQ+ communities in Chichester.
Stonepillow's work in Chichester includes The Big Sleep out event where staff, communities and volunteers come together to raise money and awareness for homelessness in the area.
Amy Thomas, Hyde Scheme Officer and Co-Chair of PRYDE said: "It was a really rewarding day with Stonepillow. They do so much for the Chichester community and it was great to be able to help them at their charity shop. We're looking forward to working with them again soon."

We offer a range of staff benefits such as two days paid volunteering leave which is a great way to get involved with local communities and make a difference.
To find out more about Stonepillow, visit their website.