Posted on 14 September 2023
Congratulations to our resident Ellen Rose, who has just celebrated her 100th birthday.

Ellen Rose has been a Hyde resident for over 40 years, and lives in a flat in Elizabeth Court, Bromley. She still lives on her own, in a general needs block – but does now have carers popping in to support her. Our caretaker also keeps an eye on her. Elizabeth Court is where Ellen Rose lived with her late husband, so her home has lots of wonderful memories and she loves it there.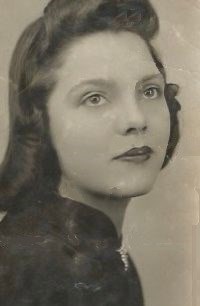 Ellen Rose celebrated her birthday with a surprise birthday card from the King, and then had a lovely meal at a nearby hotel with all her nieces and nephews. And, as if her celebrations couldn't get any better, she also received flowers from our Chief Executive Officer, Andy Hulme.
Ellen Rose's daughter, Carol said:
"Mum had a wonderful celebration – she is the only one left of her eight siblings, so it was lovely for her to celebrate with all her nieces and nephews – 24 of us enjoyed a celebratory dinner with her. And a huge thank you to Hyde for making sure that she lives in such a nice home – she's so happy there that she never wants to leave. She told me on her birthday that she wanted to be 23 again – here's to making more memories in her home."
Photo - Ellen Rose at 18