Posted on 10 November 2023
We're tackling damp, mould and condensation together 
As the cold, wet weather approaches, this means that damp, mould and condensation (DMC) can become a real issue in our homes. We know how distressing damp and mould can be. But don't worry, we're working with you so that we can tackle DMC together. And, the good news is that preventing DMC is relatively simple.
Danielle Clarke, Hyde's Property Services Project Manager, is heading up the team dedicated to tackling DMC in our homes. She said:
"We're committed to working with our customers who experience any type of damp, mould or condensation. We want our customers to live in a home that is safe, warm and decent, with no concerns or worries.
"We want customers to know what to do and how to tackle DMC in their home – to report mould as soon as they spot it, so we can work with them to get it resolved. This means we can then hopefully avoid a bigger problem.
"We also want to tackle the stigma attached to DMC, so customers aren't embarrassed to raise any issues. We aren't blaming them if there are DMC issues in their home, we know that DMC is a really common problem. So, please do report any DMC issues to us."
Damp, mould and condensation (DMC) in numbers
80% of our homes have had a condition survey within the last five years
100% of our homes to be surveyed by 2025
9,600 of our homes have been surveyed for damp and mould this year
Over 9,000 DMC works raised since January
An additional £2m spent last year tackling DMC in our homes.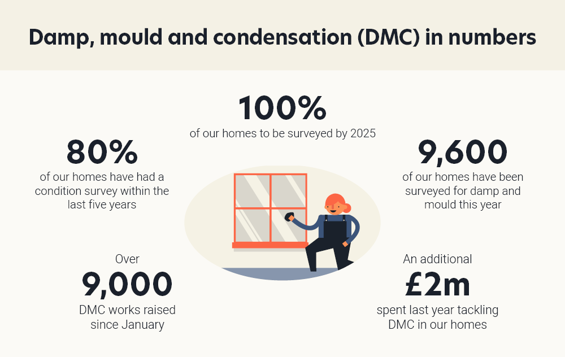 Look out for our DMC leaflet
We have a dedicated DMC leaflet (PDF, 10.2MB) which provides helpful advice and tips on how to prevent DMC from appearing and spreading.
Our customer-facing colleagues will leave a leaflet in homes, for example after we have completed a repair, sharing these useful tips.
Advice includes:
Heat your home to at least 16 degrees - cold air causes condensation to form on windows and external walls
Ventilate your home
Prevent moisture
Wipe away mould
Read more on tackling damp, mould and condensation.
Helping Hand
We know that the cost of living crisis is likely to make problems with DMC worse, as the current situation is making it even more difficult to adequately heat our homes. We're here to offer money advice and support. Look out for our new Helping Hand flyer, which highlights the support we offer, including around benefits, Universal Credit, and money and debt advice.