The Lord Mayor of Canterbury and District Cllr Anne Dekker has recently cut the ribbon at the official launch of Hyde's Whitstable Heights development, near Whitstable.
We are building 400 new homes at Whitstable Heights with homes for outright sale, shared ownership and affordable rent. The homes are released in phases with Phase 2 available now.
In her speech, the Lord Mayor spoke passionately about the importance of affordable housing and the benefits it brings to society, saying: "In supplying affordable housing, an effort is being made to stop the polarisation of the 'haves' and the 'have-nots' with regard to secure, well-constructed and well-maintained places of shelter," adding: "It's good to see housing associations like Hyde are not only recognising the problem of our time, they are attempting to do something to overcome it."
Steven Morrice, our Director of Development and Sales said: "We're delighted the Lord Mayor could visit Whitstable Heights today and see this great example of our collaboration with Canterbury City Council. By working together, we're helping to create a new community by building new, high-quality homes for people who really need them. I'm very proud of the progress here and I'm looking forward to more people moving in over the next few years."
We are working with Chartway to deliver a design and build contract over three phases. Phase 1 launched November 2021, consisting of 25 three-, four- and five-bedroom houses to suit young families and downsizers. On the affordable side, one- and two-bedroom apartments and two-bedroom starter homes along with three- and four-bedroom family homes were available through shared ownership. There were also 6 apartments and 18 houses for affordable rent.
Phase 2 has 64 homes for outright sale, 61 shared ownership homes and a further 88 homes for affordable rent for local families on the housing register with Canterbury City Council.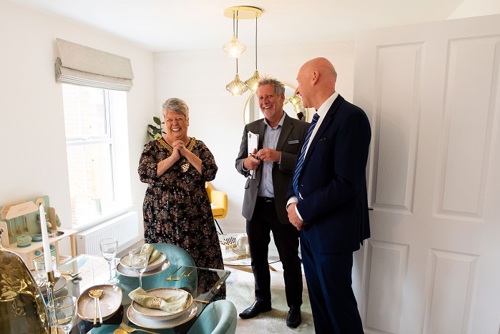 Steven Cresswell, Chief Executive, Chartway Group, said: "We are delighted to have partnered with Hyde Group in delivering this high-quality development of new homes for sale and shared ownership in a great location overlooking Whitstable Bay. 
"We both strive to deliver the highest level of service to our customers, building communities and providing much needed homes in areas people want to live – and that's again been our focus here. 
"Whitstable Heights is a great example of development as it should be from the attention to detail in materials used to create the unique Kent style to giving first time buyers, young families and relocators the lifestyle they demand."
Through Section 106 contributions, Hyde is also investing over two million in the local community. This will bring improvements to local transport, public open spaces, education, libraries, community learning opportunities, youth services and social care.
The final phase of the development has just been approved by the City Council planning committee.