Cleaning and gardening contractors are responsible for taking away bulk refuse from our schemes and estates. Please note this service is charged on top of your regular service charge, as an additional charge. This does not replace your general waste collection by your local authority.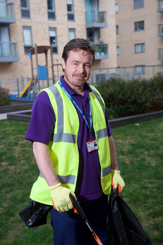 We always encourage residents to use their local authority scheme to remove large unwanted items such as household appliances or furniture. In some areas these services are free; in others the local authority charges a small fee. Please check your local authority website for details.
On larger estates where we know we regularly need to collect bulk refuse, we ask our supplier to make regular weekly collections at peak times, eg after the weekend. For smaller estates and schemes, we will place an order with our contractor to collect on their next scheduled visit. Bulk refuse can be reported by our contractors, by our staff or by you.
You can report bulk refuse using this form. Please attach a photo if possible, as this makes it easier for our staff to get the order right first time if we can see what the refuse is and how big it is.
If you think there is a health and safety risk eg a fridge with the door still attached or a large item in danger of falling, please contact us by phone.
General household waste and recycling is collected by your local authority.