Stockwell celebrates re-opening of the refurbished Old Laundry community centre
The Stockwell community welcomed back their cleaner, brighter Old Laundry community centre with an action packed celebratory event, on Saturday 19 August.
From ice cream to face painting, and go-karting to sports activities on the renovated basketball court, there was something for everybody to enjoy. Older residents were treated to bingo, led by local resident 'Bingo Babs', and chair Zumba in the newly refurbished main hall. The aim was for the community to look around the centre, play games and get involved.
The tropical sounds of steel pans and African drums, provided by Nostalgia Steelband and Carnival Club, and beautiful singing from local performance arts school, the Boury Academy, added a real summer vibe.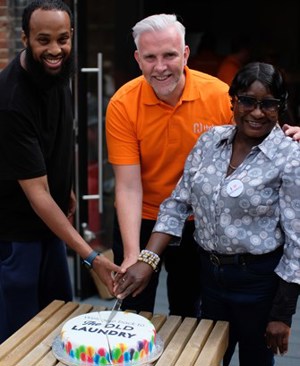 Local councillors Cllr Hashi and Cllr Tina Valcarel, and Hyde Chief Executive, Andy Hulme, marked the re-opening with the cutting of a special 'Welcome back to the Old Laundry' cake.
Andy Hulme said: "This has been a real team effort with Hyde and the community working together to bring this wonderful building back to life - local children even picked the colour of the 'Ferrari red' front door.
"I know that the centre is going to help us work even better locally - helping raise our standards even further. I'm looking forward to everybody enjoying it now and in years to come."
Cllr Hashi said: "The refurbished Old Laundry is fantastic – from what the centre was and what it has become. What a contrast! It really has made the community proud. I can't wait to see everybody use it and what a contribution it will make."
Cllr Tina Valcarcel said: "Be very proud of what you've done. I've lived in Stockwell for 17 years – Hyde has been here during that time, and I know how much they do that is right. Use your community centre – it's here for you all to enjoy."
The multi million pound investment to the Old Laundry has included asbestos removal, refurbishing the main community space, the Young People Matter offices and landscaping the outside.
The Old Laundry is managed and operated by the Stockwell Gardens West Tenants and Residents Association (SGWRA) and supported by Hyde.
As well as being home to the SGWRA, The Old Laundry is also home to community organisation, Young People Matter (YPM). Both groups deliver a wide range of services and support to the residents of Stockwell.