Resident community groups such as tenants and residents associations (TRAs) work with us to improve services where they live.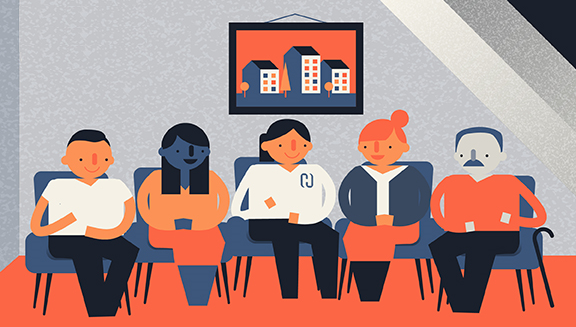 There are different kinds of groups. Some TRAs are quite structured, with 'officers' such as chairs and vice chairs, secretaries and treasurers. Other groups are more informal, and some are online – discussing local projects and issues through WhatsApp or Facebook.
If you want to set up a residents' group in your area, contact our customer involvement team for advice and support. All you need to get started is a few neighbours with a similar vision and some ideas of what you want to achieve. Then we can help you to get your group off the ground.
Once your group is registered with us, we will share regular communications including:
Tips for how to run a successful meeting – face to face or online
Inspiration from other groups
Information about how to access grants and funding
Grants for resident groups
We have money available for resident groups. If you want to access funding, you may need to certain criteria. Please get in touch if you want to apply.
The OAK, our award-winning resident engagement website, is a great resource for residents' groups. You can find guidance, get advice from other residents' groups and we can even set your group up with its own private online discussion area.
Contact the Customer Involvement team for more information about how we can support your group.
Case study - Phoenix Community Association (PDF, 80KB)
Register your existing resident group with us
Some more information to help you get started