Environmental, social and governance (ESG) reporting allows us to demonstrate the positive impact we have on society, the economy and the environment, so we can show what we stand for.
Watch our short video to find out more about our approach to ESG. 
At its best, ESG reporting can help us fulfil our social purpose and the ambitions of our strategic plan: to deliver more of the right homes in the right places, ensure all our homes are safe, decent and energy-efficient, and to support a high-performing and customer-driven culture.
ESG can also help us think differently about the way we respond to issues like climate change, where we source investment from and how we demonstrate that housing associations add value and make a positive impact.
Our ESG framework reflects our social business model, and all that we have to say about our performance and impact. It goes beyond frameworks from the corporate market which may not fully explain the true value that we, and our fellow housing associations, are delivering.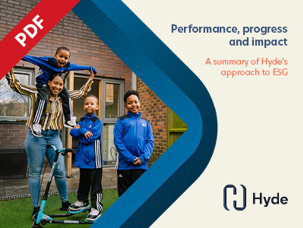 Through our new ESG framework we are committing to a robust and transparent benchmarking process that will keep us on track and makes us accountable. While recognising the importance of consistent reporting, we expect our metrics to adapt as we evolve as an organisation.
Download our summary report – Performance, progress and impact.
Our aims
To show our customers that we're listening to them and acting in their best interests. We believe ESG can support more sustainable social housing, helping to drive the significant private and public investment needed to meet the zero-carbon agenda
To set out our commitment to collaborating with other housing providers and other partners to deliver our shared purpose, demonstrate our impact as a sector, and overcome the funding challenges we're all facing
To demonstrate to investors that we are an attractive, culturally-aligned partner that will only work with those that are serious about ESG outcomes. Investors need to share our ambitions to give more people a home and improve their life chances
To offer evidence to government that ESG reporting can be used to drive capital investment and address the country's housing crisis.