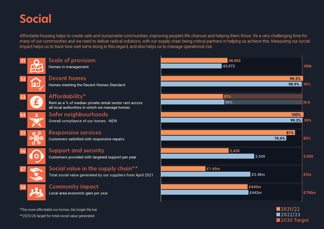 Affordable housing helps to create safe and sustainable communities, improving people's life chances and helping them thrive. It's a very challenging time for many of our communities and we need to deliver radical solutions, with our supply chain being critical partners in helping us achieve this.
Measuring our social impact helps us to track how well we're doing in this regard, and also helps us to manage operational risk.
Our 2022/23 highlights
We set up our new Operations directorate and began piloting a neighbourhood model, to deliver local, joined-up services
We provided 3,349 customers with financial, health and jobs advice
Our supply chain partners have generated a total social value of £3.48m in projects for customers and communities since April 2021
The 'core' social value of our tenancies across our 33,981 social rented and shared ownership homes was £442m; the economic impact from building and maintaining homes, was £204m.
See also
Environmental - performance, progress and impact