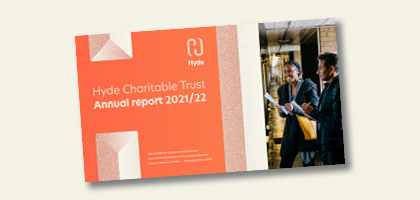 Hyde Charitable Trust annual report 2021-22 (PDF, 6MB)

Hyde Charitable Trust is a Company Limited by Guarantee, and a charity registered with the Charity Commission for England and Wales.

HCT is governed by a Board of Trustees and our current grant giving is around £1.1m per year, made up of funds from our annual investment dividends, designated funds and restricted funds.

Our charitable objective is to promote charitable purposes in England and particularly the prevention or relief of poverty or financial hardship.