Governance underpins everything we do. It ensures effective decision-making and good risk management and keeps us accountable to our stakeholders. Good governance also keeps us aligned to our vision and mission, helping us to live our values and reinforce our reputation.
Being a registered provider of social housing sets us apart from most corporate companies and how they are run. It includes working within a framework set by the Regulator of Social Housing, which stipulates economic standards and consumer standards for governance. We also follow the code of governance set by the National Housing Federation, the membership body representing housing associations in England.
Our ESG report measures our governance outcomes three key criteria, set out below. We measure eight core metrics which are underpinned by a full ESG framework. We then publish our progress and performance against these core measures via our ESG Dashboard which is included in our ESG summary report: Performance, Progress and Impact (PDF, 2.1MB).
What is good governance?
Good governance is about meeting the needs of our main stakeholders:
Customers
Staff
Local authorities
The Government
Suppliers and partners
Investors and funders
Board members and trustees
Regulators and the Housing Ombudsman
Housing sector.
It is about transparency; providing information that is complete and really informs and about accountability; acknowledging our duty to those stakeholders to whom we should rightly be accountable
Finally, governance is also about participation: our stakeholders need to be able to share their views with us and trust that we will respond to them.
Our approach to governance
We are evolving our governance regime, particularly as we consider more complex joint ventures with other investors, to increase the money available for building new homes.
We need to ensure our social purpose is kept front and centre, while managing reputational risks. We also know our governance and strategic direction needs to inspire confidence from local authorities, governmental bodies, and grant providers.
Measuring governance outcomes
Our ESG report measures our governance outcomes against each group of key stakeholders using three criteria:
Transparency: stakeholders receive clear, accessible, accurate and timely information on the issues that matter to them. Information is accurate and not misleading
Accountability: stakeholders can scrutinise and hold us to account for decisions which affect them
Participation: stakeholders' views are sought, valued, and used to inform decision-making.
We then refine the outcomes and measures to the set of eight metrics to use for our performance reporting on our governance.
For our customers, outcomes of good governance will include ensuring homes are of a high standard and enabling them to live environmentally friendly lifestyles. Another crucial aspect of our governance process is customer voice and satisfaction. We want our customers to be actively involved in the organisation at all levels and to hold us to account.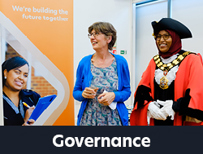 Find out how our work supports stakeholder participation in our case study.
See also
Environmental - performance, progress and impact