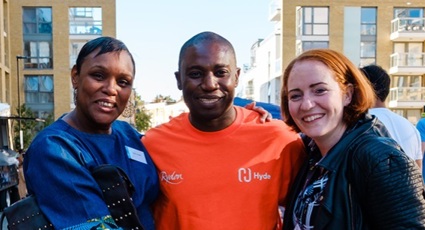 Our vision - to provide a great home for everyone - is the basis for everything we do. Read more here about our purpose and the vision, the mission and the values that guide the way we operate as a business.
Our vision
A great home for everyone
Our aspiration, that guides everything we do, is to provide a great home for everyone. We know that Hyde cannot do this on its own. The housing crisis in London and the South East of England is a huge and longstanding problem, which will only be solved if we all play our part and all work together. That includes government, house builders, investors, landlords, charities and residents themselves.
Our mission
To provide more people with a roof over their head so they can make a home
Our mission explains in more detail how we are going to try to achieve our vision. It sets out what we're going to do, for whom, and how we'll go about it. We have six principles that underpin our mission and articulate exactly how we will achieve it.
We will:
Build and maintain more than our share of the financially accessible homes that London and the South East need.
Provide simple, easy to use landlord services for all our customers.
Proudly generate profit to reinvest in tackling the housing crisis. (No money; no mission.)
Work together with passionate individuals and organisations who share our vision.
Inspire each other across the organisation with our successes.
Defeat financial constraints with creative thinking and imagination
Our values
We're customer driven
We understand the needs of our customers. We use this insight to create and deliver our services, empowering our customers to lead the best lives they can.
We're inclusive
We celebrate and draw strength from our differences. We' re open, honest and fair. We respect our customers, staff and other stakeholders and expect them to treat us in the same way.
We're collaborative
We work with, learn from and share our ideas and expertise with others in Hyde and beyond, for the benefit of all.
We're innovative
We're ambitious for our organisation, our people and our sector. We encourage purposeful innovation and new ways of thinking.