Following approval from the joint venture board, construction of 104 new homes on the site of the former Belgrave Day Centre in Portslade is due to start in the summer of 2021.
Building new low cost homes
The new homes will be built at Clarendon Place, facing on to Wellington Road. The site is identified as suitable for housing in the City Plan.
The 104 homes will be in two blocks, between four and seven storeys. There will be 11 studio flats, 50 one-bedroom flats, 39 two-bedroom and four three-bedroom.
This matches the size of housing needed in the city. Currently, 82% of households on Brighton & Hove City Council's housing waiting list are in need of one or two bedroom properties.
Half of the new homes will be available for rent to people on the council's housing register, with the other half to buy available as shared ownership homes from Hyde.
It is estimated the homes will be completed and ready for purchase and rent from early 2023.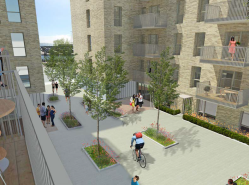 Listening to residents
Homes for Brighton & Hove held two rounds of consultation with local residents in July and October 2020 before finalising the plans.
Following feedback from the local community and other stakeholders, the number of homes was reduced from 122 to 104, with the taller block reduced from eight storeys to seven.
The blocks will also be set further back from Wellington Road. Electric car charging points have been added to all car park spaces, and an extra visitor parking space and delivery bay has been added. 
The development will also have two extra car club spaces and a Brighton Bike share hub on site.
The location benefits from good transport links to surrounding areas, and is close to shops and local amenities on Boundary Road.
Landscaping the area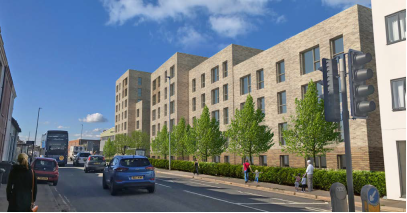 The buildings are set back from Wellington Road and will include a 'green corridor' of elm trees, hedges and seasonal plants. Trees along the front will wrap around the site and continue into the courtyard.
The blocks will have more than 269 solar panels on the roofs and a landscaped courtyard in the middle.
A steel arch, a nod to the area's former industrial heritage, will provide a stunning entrance to the main public space and native plants will provide biodiversity on the site.
The stepped buildings – designed by Conran and Partners – will be built with robust, textured brick and stone.