Our volunteering policy allows staff to take two days paid leave per annum for approved volunteering activities.
In addition to benefiting charities and recipients, the scheme contributes to health and wellbeing at work and offers opportunities for personal or professional development.
Paws2Rescue: Truly making a difference to the lives of Romanian street dogs
Darren Grada shares his volunteering experience with a charity close to his heart. Darren joined Hyde in 2017.
I had the opportunity to volunteer at Paws2Rescue (P2R), a small charity that rescues street dogs from Romania and, among other things, finds them a loving home with a family in the UK.
It initially 'adopts' as many as it can afford to save from the public shelters, meaning that they are kept there unharmed and safe until P2R can take them. If any dogs are still awaiting adoption after a certain time, to save them from being euthanised the charity will prioritise their rescue – removing them from the shelter and placing them into safe kennels or with a local volunteer family until they are adopted.
Almost monthly about 20 dogs - all adopted prior to setting off - are brought to the UK in the 'happy van' (it's a large lorry!) to start their new lives with their families. The happy van is also used to take supplies back to the kennels and local volunteers in Romania.
After receiving the support of local communities, the charity now works with primary schools to help educate young people regarding animal welfare. They do this via special talks, booklets and leaflets.
P2R does not discriminate over the age of the dogs or their medical condition, and I love that! The charity pays for veterinary care for dogs being held in kennels regularly and strongly believes that every dog is important, and every dog deserves to feel loved and cared for.
Every year P2R has a Christmas shoebox appeal where people all over the UK put together small Christmas parcels to be handed to the local children in Romania, or to the rescue dogs in their kennels. My volunteering focused on that.
Day one started early, about 6.30am, with a drive from my Portsmouth home to Hayling Island's Seacourt Tennis Club to collect Christmas presents from a P2R member and other club members who wanted to help. I then met the charity's founder Alison Standbridge and accompanied her on a primary school visit - the children had donated their own gifts (some were for children in Romania too!) and were also encouraged to write a note on the package. The messages were so touching and made our efforts in getting the gifts to Romania so worthwhile.
By noon both of our cars were full to the brim with parcels and ready to be taken to the Big Yellow storage facility in Romford. Alison and I, alongside other volunteers then spent the rest of the day and evening loading and securing all the parcels onto large pallets, which are then wrapped in clingfilm and loaded onto the lorry to be transported to Romania.
I spent two days volunteering with Paws2Rescue, although the days were long, 6.30am-7.30pm, I valued every moment of it.
I'm glad we have the opportunity at Hyde to take volunteering leave. If you're thinking about volunteering, my advice to you is…go for it!
Visit Paws2rescue.com to find out more about the great work that they are doing.
Nelson & Emma: My two adored P2R pooches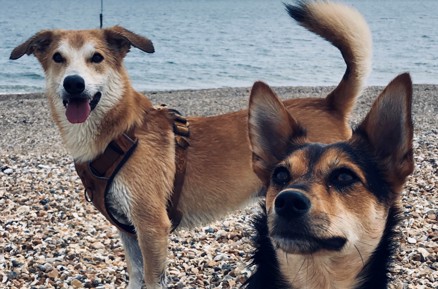 Get stacking: P2R founder Alison Standbridge