Many of our customers receive cleaning and gardening services for which they pay a service charge. On a routine basis, these services including: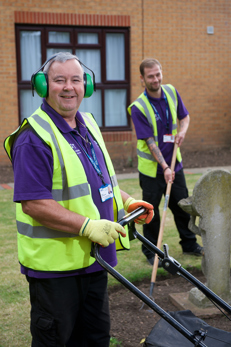 cleaning of communal areas
window cleaning
gardening, including cutting grass and pruning shrubs
When required, these services also include: 
You can quickly and easily report any cleaning and gardening services requests using our online contact us forms
Frequently asked questions
How often will I receive cleaning and gardening services?

The specification for the service you receive will depend on the type of building in which you live. The main way in which this will vary is how often services are provided. For example, most buildings will receive a weekly cleaning service, but this is increased to daily in busy locations where many residents share communal areas.

The contractor who provides the service is responsible for informing customers about the specification, schedule and who the team is who are working where you live. This may be done by using the noticeboard or by providing introductory information directly to each household.

We know some of our customers like to see the detail which supports the contracts, so you can download copies of the specifications here.

Who are the contractors for my local area?

Working with customers we have selected preferred contractors in the following local areas.

| | |
| --- | --- |
| Area | Successful bidder |
| Brighton and Hove | Just Ask |
| Greenwich and Bexley | Just Ask |
| Bromley | Hi-Spec |
| West Kent | Cleanscapes |
| Peterborough | New Green |
|  London (North of river) |  Just Ask |
|  Chichester |  Groundscapes |
|  Surrey |  Groundscapes |
|  South East Coast (Kent) |  Cleanscapes |
|  East Anglia (exc. Peterborough) |  CGM |
|  Lewisham and Southwark |  Cleanscapes |
|  Stockwell and Kennington |  Cleanscapes |
|  Croydon |  Groundscapes |
|  South Hampshire |  Acorn |

           

How do we check the performance of our contractors?

We have arrangements in place to make sure our services are regularly checked for quality and value. We do this in the following ways.

Contract managers 
Hyde has three dedicated Contract Managers whose job it is to make sure the services meet customer needs and offer good value. Any Hyde staff member who visits a local area can assess standards of service. Contract Managers will inspect 10% of sites in their area each month, responding to staff and customer feedback.

Contractor quality assurance
We expect our contractors to play an active role in scrutinising standards through their own supervision and providing evidence to us when services have been delivered. If they encounter a problem, we expect them to let customers know and let us know how and when this will be corrected. Working with a smaller number of contractors overall allows us to refine these processes and share good practice.

Customer feedback
Customer feedback is one of the most important ways to inform us if there is a problem with cleaning and gardening services.

Contractors provide their contact details and, if it is a simple issue, we encourage you to speak to your cleaner or gardener directly or contact the Contract Supervisor.

If you are concerned about a more serious issue, then please do contact us

Customer satisfaction
Each month we ask an independent research company to carry out surveys with a range of customers on their overall satisfaction with cleaning services and with gardening services in their area. The results of these surveys then form part of the discussions we have with contractors at our monthly meetings.
Information on the recent cleaning and gardening contracts (awarded 2016)
Within your service charge estimate we've included cleaning and grounds maintenance costs attained through our new partnering contracts. You may remember that we consulted with you on these new contracts in 2015-2016 and we've included a table of the consultation dates and contract awards below for your information.
For information on the services provided to your building or estate, please contact us
Consultation
Notice of Intention 
Notice of Proposal 
Applicable properties and contract award
Cleaning and Grounds Maintenance Mini Comp 1

Consultation start date: 2 and 28 September 2015

Consultation end date: 5 and 31 October 2015

Consultation start date: 29 February 2016

Consultation end date: 1  April 2016

Brighton & Hove – Just Ask
Bromley – Hi Spec
Greenwich & Bexley – Just Ask
Medway -Cleanscapes
Peterborough – New Green

Cleaning and Grounds Maintenance Mini Comp 2 

Consultation start date: 16 December 2015

Consultation end date: 19 January 2016

Consultation start date: 16 May 2016

Consultation end date: 18 June 2016

Chichester - Groundscapes
East Kent-Cleanscapes
South Kent-Cleanscapes
London North– Just Ask
Minster – Country GM
Surrey- Groundscapes

Cleaning and Grounds Maintenance Mini Comp 3 

Consultation start date: 4 April 2016

Consultation end date: 7 May 2016

Consultation start date: 28 July 2016

Consultation end date: 30 August 2016

Croydon/ Surrey- Cleanscapes
Hampshire/Gosport - Acorn
Lewisham/ Southwark -Cleanscapes
Oval/Lambeth/Stockwell -Cleanscapes