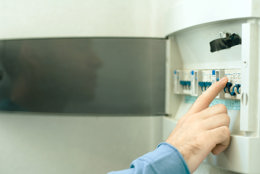 If you have no power it could mean a fuse has tripped, this can easily happen when an appliance is nearing the end of its life, for example an aging iron. To fix this, you'll need to find the main fuse box in your home and check to see if any of the switches have 'tripped'. This means the switches are in the down position. Please move them back into the up position to turn them back on.
I've checked the fuse box and there's still no power in my kitchen
If the power sockets in your kitchen aren't working, it's an emergency. Please call us on 0800 3 282 282. You can contact us on this number 24 hours a day, 365 days a year.

Good to know

Avoid opening your fridge or freezer until we have visited, to keep the temperature stable and help keep your food fresh.
No power in a room outside of my kitchen
If power sockets in any rooms (other than your kitchen) aren't working, it's not an emergency but we'll fix things as soon as possible. Please report as a routine repair.
Extra help when it's needed
This toolkit is just a guide. If you or your household require extra support (for example due to disability, illness or age) and need to report this issue as an emergency, then please contact us to explain your circumstances and we'll be happy to help.