Social value | Residents' videos | Reports | Model for social housing providers
The value of a Hyde social tenancy 2019/20
We believe a social tenancy improves people's life chances and helps them thrive in a number of ways. It contributes to their wellbeing, helping them to realise their potential, enjoy their environment, work meaningfully and contribute to their community. 
Since 2018, we have been commissioning independent research to better understand and quantify the social impact we have (our 'social purpose') and to help identify the extent to which we contribute to societal change.
We wanted to put a value on the impact social housing could have, not only in creating safe and sustainable communities, but also in reducing the burden on emergency services, healthcare and local authorities. We wanted to demonstrate that social housing saved money and impacted positively on the economy. 
Clearly, the value of a social tenancy will change over time and so, in March 2020, consultant Sonnet Advisory & Impact CIC updated its original research, to ensure it continued to reflect the lives of our customers. We also updated cost data used in the calculations, and considered the number of homes we built and maintained in the previous 12 months. (Note: the impact of COVID-19 was not factored into our modelling, which used data available at 31 March 2020).
We are currently developing a wider impact analysis framework, covering the environmental, social and governance aspects of our organisation and our activities. This will allow us to assess (and provide evidence of) the positive outcomes we deliver more broadly. The value of a social tenancy research will form a key part of that analysis in the future.
A Hyde home is worth more than you think

The annual value of a Hyde social tenancy in 2019/20
Including the direct value of a social tenancy and the economic benefits of building and maintaining homes.
£21,001 - Total annual value of a Hyde tenancy
£723m - Our total annual social value

Saving money for society in 2019/20
£231m – Total economic impact of our customers in work

£95m – Health-related savings generated by our tenancies

£45m – Local authority savings by moving people out of temporary accommodation

£60m – Savings in reduced police call-outs and the cost of crime.
See the difference a Hyde home makes to our customers
Read Melanie, Sam, Shana, Richard, and Robyn's stories by clicking the images below:
Understand how we create social value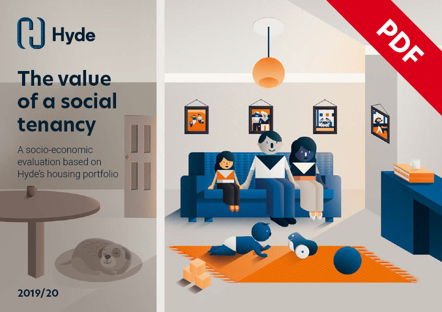 Our summary of the Value to Society report (PDF, 1.0MB) includes some personal stories of our customers, which really bring this social value to life, and an outline of the benefits to the Treasury.
Read the 2019/20 Value of a Hyde social tenancy report (PDF, 6.4MB), to understand how we quantify the social impact we are having as an organisation.
The reporting criteria (PDF, 3.9MB) provides a summary of how Sonnet modelled and calculated the values.
The value of Hyde social tenancies to the Treasury (PDF, 235KB) outlines the direct relationship between the number of social tenancies and the return generated to both public finances and to the UK economy.
A model for all social housing providers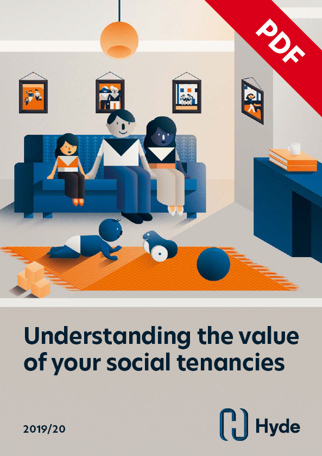 We have made the model behind the report (PDF, 7.7MB) available to other social housing providers, to help develop and improve it, as well as developing consistent measurement across the sector. We hope that, as others use the model, it will expand to cover areas such as shared ownership, support for the elderly and building design, to evaluate the value of tenancies more fully.

We have been speaking to a number of social housing providers across the UK and two have already applied the model to their organisation, building on our approach to look at the additional benefits supported housing offers older residents.

We believe this research helps reinforce the message that housing associations are a 'third way' between the state and the private sector and will help drive investment in social housing. In short, it strengthens the rationale of why it (and what we do) matters.
Contact Sonnet to find out more.