Resident inspection of grounds maintenance and communal cleaning (including bulk cleaning)
Thank you to everyone who took part in the resident led inspection into our grounds maintenance and communal cleaning services. Whether you joined an online focus group, completed a survey or shared your thoughts on social media, your feedback will make a difference.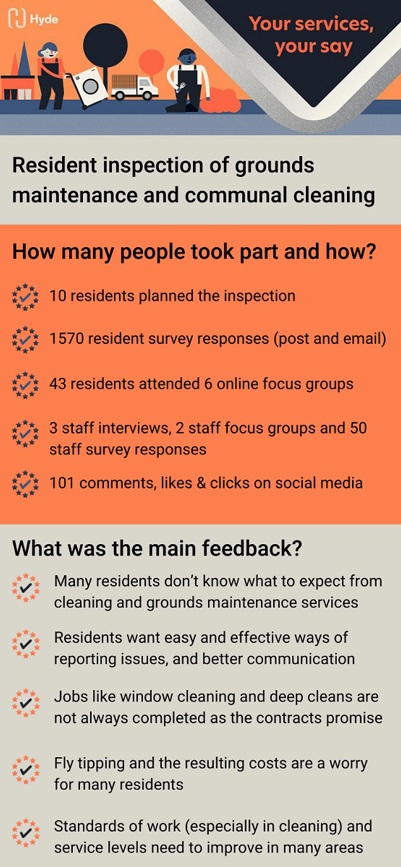 How many people took part and how?
10 residents planned the inspection
1570 residents answered surveys (post and email)
43 residents attended 6 online focus groups
There were 3 staff interviews, 2 staff focus groups and 50 staff survey responses
On social media there were 101 comments, likes and clicks
What was the main feedback?
Many residents don't know what to expect from cleaning and grounds maintenance services
Residents want easy and effective ways of reporting issues, and better, more responsive communication
Jobs listed in the contract to be done at regular times throughout the year, like window cleaning and deep cleans (including bin stores), are not always completed as promised
Fly tipping and the resulting costs are a worry for many residents as this can have an impact on service charges
Standards of work (especially in cleaning and grounds maintenance) and levels of customer service within these services need to improve in many areas and be more consistent
The resident inspection team are now discussing the findings and feedback with the staff who manage these services. They will share the full inspection results in October, which will include the changes that will be made to improve these services based on everyone's feedback. The results will be shared here on the website, as well as on social media and The OAK.
For more information contact the resident engagement team – residentengagement@hyde-housing.co.uk