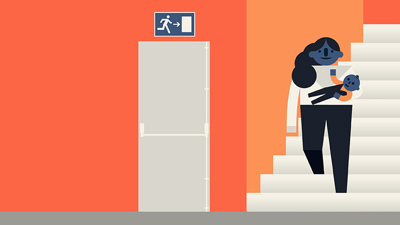 HRE are Hyde's resident-led inspection committee. Having successfully completed four inspections last financial year, they are now into the second assignment of their 2018-19 programme.
HRE have again listened to feedback from residents and have chosen to look into fire safety this time. The aim of the inspection is:
to investigate residents' experience of fire safety management at Hyde.
to identify where processes could be improved to make services more efficient.
to make sure that residents are being communicated with effectively about fire safety, and that they feel safe in their homes.
This important inspection started 6 August 2018. The following activities are being delivered to test the service: staff interviews and focus groups, review of documents, on site shadowing, process analysis and resident surveys.
HRE are aware that some residents may receive or see several surveys during this inspection period. Fire safety is a high priority at Hyde at the moment and it is important that residents are involved in any improvements or changes being made. The surveys are different and, where possible, are being targeted to residents who have experience of those different aspects of the service. HRE would be grateful if residents could spare some time to complete any surveys they receive as every bit of feedback makes a difference!
This inspection will finish on 17 August 2018, after which HRE will spend some time reviewing the findings and working with staff to agree an action plan with recommendations for improvement.
For more information about this important inspection, or to sign up to be involved in future inspections please contact the RE team on: residentengagement@hyde-housing.co.uk or call on 0800 3282282.