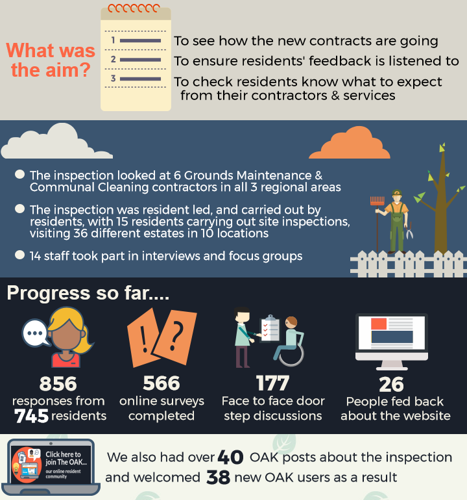 Hydewide Residents Eye (HRE) – our resident-led inspection committee – have now completed their inspection of our grounds maintenance and cleaning contracts. The result of this inspection will be a set of recommendations for improvements they feel need to be made to these services.
The activities that have taken place to collect evidence and feedback as part of this inspection included:
estate/block inspection visits
door knocking
website analysis
a quality of service survey
staff focus groups and staff interviews.
All activities were completed independently by residents, with Resident Engagement staff helping to co-ordinate.
We are hugely grateful to everyone who has supported with this huge inspection. Here is a summary of how we gained all the fantastic feedback we have during this inspection.
If you want to stay updated with progress being made against the actions then contact the Resident Engagement team on residentengagement@hyde-housing.co.uk to join The OAK our engagement site.
There will be a monthly inspection updates on The OAK, as well as ongoing consultation with residents through informal forum threads and task and finish exercises. These will involve residents in making sure that the inspection outcomes are achieved.
For more information about HRE's resident inspections please contact the Resident Engagement Team on residentengagement@hyde-housing.co.uk.