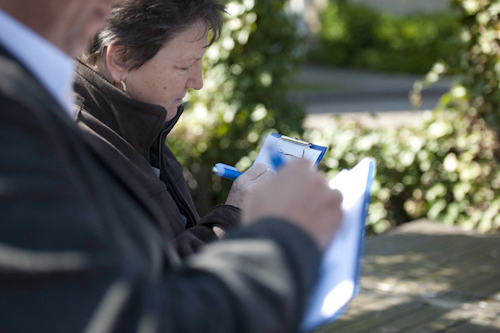 Hydewide Residents Eye (HRE) is a sub group of Hydewide Residents Voice (HRV) who oversee resident-led inspection. Each year in partnership with Hyde staff and following a review of performance information, compliance recommendations and feedback from service areas, HRE agrees an annual inspection programme.
Inspections are carried out by a team of resident and staff inspectors and they use a number of different methods to find out how well a service is being delivered.
These include review of performance and other data, review of policies, procedures and service guidance and information, surveys and interviews with residents who have received a service, mystery shopping, work shadowing and interviews with staff who deliver the service, review of information and communications about a service. Key to the inspection is that more than one source of evidence is needed for a finding to be confirmed.
Each report results in a set of recommendations. These are agreed with the staff member responsible for delivering the service along with a date for completion. Recommendations are monitored by HRV to make sure they are completed as agreed. Recommendations that have been agreed as a priority 1 or 2 are monitored by Hyde's Group Housing Services Board.
In 2016 the following areas were inspected: