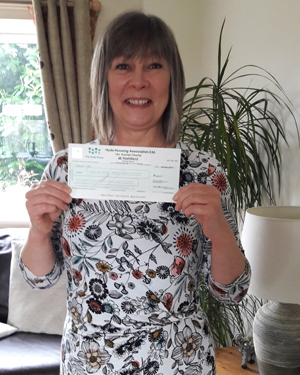 February 2017 winners
Mr A from Chichester (6 February draw) who said he was delighted with the windfall and Miss H, also from Chichester, (20 February draw) who said "you have made my day, really cheered me up. Thank you."
This month's winner, pictured, (March draw) was Mrs P from Sussex who said "I am really surprised, but the money will come in very useful."
All you need to do to be in with a chance of winning £500 is ensure you are eligible by checking the simple guidelines on the Hyde Rewards page. Good luck.
January 2017 winners
Our first ever lucky Hyde Rewards winners of £500; were Mr and Mrs A-S of Tonbridge and Mrs S from Chichester.
Mr A-S felt Hyde Rewards was an excellent idea for motivating residents to keep contact details up to date and keep their rent account in credit. Mr A-S, who contacted us to update his information earlier this month, was thrilled with his unexpected windfall and stated this would mean "an excellent start to the new year" for him and his family. 
Mrs S, who had also recently updated her contact details via the online form, was our second lucky winner from the draw on 23 January 2017. She told the CS team, "You have made my day, I am still smiling now!"