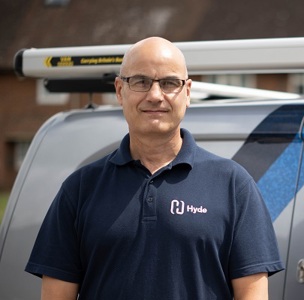 Brian Armstrong - Repairs and maintenance
"It's great to be providing a full service," says Brian Armstrong, our Lead Operative (Gas). "We can now carry out routine repairs, decorating and getting empty homes ready for new residents.
"Throughout lockdown and under government guidance, the gas team were able to carry out essential repairs, annual gas safety checks and new boiler installations. The electricians were also able to carry out essential and emergency work as necessary. Inevitably, these jobs had to be prioritised and as a result some were delayed.
"Everyone has been really understanding about the situation and realised that we're working under tight government restrictions. We've all made a big effort to reassure residents that we are doing everything we can do to protect them, and us, while keeping their homes safe and in working order.
"Of course, we're not out of the woods yet: some people are self-isolating, so we can only do emergency repairs in those homes. When able and with the residents' permission, we have also managed to carry out some annual gas safety checks.
"We have had to follow strict procedures to keep us all safe, including asking customers to shut themselves in another room while we work, by wearing full PPE and wiping everything down when we're done.
"Kind offers of tea, coffee and cold drinks have had to be politely declined under these strange circumstances which is a shame!"

The procedures shown in this video met government guidelines at the time. We continue to revise our procedures in line with latest advice.