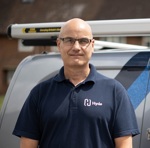 Find out more about our repairs service during the coronavirus pandemic, and how we are getting things back to normal, from Repairs operative Brian Armstrong.
Last updated 6 July 2020
Repairs and maintenance services are now largely back to normal, so to report a repair please contact us in the usual ways.
Fortunately, we do not have a backlog of outstanding jobs but please be patient, as we may experience delays, for example if we have a surge in demand or if there is a local lockdown. Also, some jobs require more than one operative, which may mean we can't do them at the moment, due to social distancing.
We will still be contacting you before appointments and operatives will ask if anyone is shielding or self-isolating before they enter your home.
In these cases, we are only able to carry out emergency repairs and will be following special procedures. If you need to cancel an appointment because you are shielding or self-isolating, please call us as soon as possible, on 0800 3 282 282.
How to get in touch
If you need any further information or support, please contact us.
Further
 

information for customers