Keeping customers safe in their homes
In this section of our website you will be able to find out more about fire risk assessments, external wall inspections, the EWS1 form and waking watch. We have also included the answers to some of the more common questions asked by customers.
We have also created individual pages for buildings where safety work is underway and for buildings where we are currently carrying out intrusive fire risk assessments to understand what remedial work may be needed. These pages include contact details for each of the teams, who will be able to answer questions specific to that project. They are being updated regularly to let customers know how work is progressing.
We will also be updating the other pages in this section on regular basis, to reflect any changes to Government guidelines, legislation and our position.
Overview flowchart of external wall inspections, remedial works and EWS1 assessments. Click the image to view (PDF,100KB).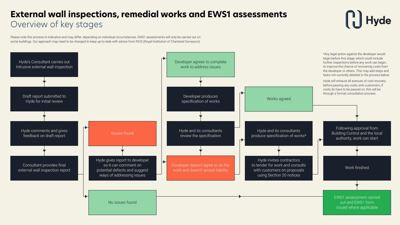 Our priority
Our priority is, and always has been, the safety of our customers – whether they are tenants, shared owners or leaseholders. All our buildings have current fire risk assessments and we are confident that everyone is safe in their homes.
Since the tragedy at Grenfell Tower, we've been making fire safety improvements to our properties – including removing unsafe cladding from some of our buildings, where it was not in line with standards brought in after Grenfell.
As well as sorting out any issues identified during annual fire risk assessments, our ongoing building safety programme helps us keep up with current fire safety guidance and laws. This means carrying out intrusive fire risk assessments and external wall inspections at some of our buildings and, where problems are found, undertaking remedial safety work.

See also safety in and around your home.