With the coronavirus crisis meaning that the majority of us are spending much more time at home, our reliance on electrical equipment is at an all-time high. If you are working from home or home schooling your children, make sure that you and your family are electrically safe. 
Your home will have a limited number of power sockets which may not be enough to enable everyone in your household to stay connected and entertained. Using extension leads is a good way of extending the electricity capabilities of your home, but if they are not used correctly or become overloaded, they could put you at risk of fire, electric shock and trips caused by trailing wires.
To ensure you are using extension leads safely, you should:
Only buy leads from reputable suppliers and check they have the British kitemark on them. This is a quick way to know that they meet stringent safety standards.

Make sure you are using a 4-bar extension lead as opposed to a block plug which will put less strain on the wall socket – some block plugs do not have fuses which increases the risk of overloading and fire.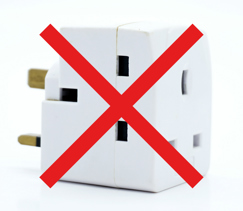 Visually inspect your extension lead to make sure it's in good condition, and isn't bent or damaged.
Check the overall rating of your extension lead before plugging anything into it – most are marked as 13A, but some are 10A or lower.
Only ever use one extension lead per plug socket. Never plug one extension lead into another one.
Make sure that the cable is not overlong and that it is appropriately laid out; never run cables under carpets, rugs or across the middle of the room you are using it in as this increases the likelihood of someone tripping over it or getting tangled in it and falling over.
Only use extension leads which are ready assembled with suitably insulated connectors and plugs.
Use extension leads only when there are not enough plug sockets available.
As part of ensuring electrical safety in the home, you should check all plugs, cables and extensions before use, looking for:  

Black or scorch marks around a socket, plug or appliance
Damaged or frayed leads
Coloured wire from inside the lead showing at the plug or elsewhere
Melted plastic on appliance plugs or leads
If you smell burning near an appliance or socket or you see smoke or sparks, switch off the equipment if it is safe to do so and unplug it.
Get rid of damaged extension leads, do not try to repair them – covering damaged cables with sticky tape won't provide you with enough protection from electric shocks. 
If you are concerned that you may be overloading your extension leads, use this socket calculator from Electrical Safety First to check. 
Read more about electrical safety in your home.