Posted on 09 December 2021
As part of our 16 Days of Action - supporting the global movement to end violence against women – we're delighted to announce the official opening of the new, My Sisters' House drop in centre in Chichester.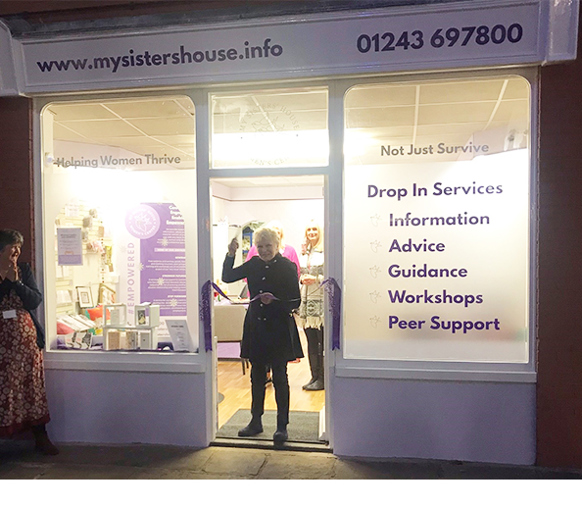 My Sisters' House is a women's centre which offers vital support to women experiencing any difficulty or crisis, including domestic abuse. We are extremely proud to work in partnership with the centre, which has received a grant award of £20k from the Hyde Charitable Trust Communities Fund. We also worked with Chichester Council to identify this new space for My Sisters' House.
My Sisters' House offers everything from the emergency provision of food vouchers and toiletries to one on one support offering advice on everything from risk assessments to safety planning. It also offers training and workshops and improves employability through mentoring.
As a result of an emerging need, our Successful Places team worked hard to support the centre. Thanks to funding by the Hyde Charitable Trust, the centre managed to expand their services, reaching out to the local Chichester community.
The opening of the centre was a real Hyde team effort, where colleagues volunteered their services - cleaning, decorating and getting their hands dirty to get the new drop in centre ready for the big official opening.
Connie Bielsa, Hyde's Successful Places Projects and Partnerships Manager said: "This has been a true example of partnership work externally and across Hyde, working alongside everybody from Chichester District Council to our contractors who completed jobs to ensure the opening of the Chichester's first women drop in centre.
"It's been great to see just how much financial and practical support Hyde has given to this project to contribute to it becoming a reality – it's going to help so many women in the area get the vital support they need."
Kerry Starling, Head of Social and Economic Investment for Hyde said:
"We're so proud to be working in partnership with My Sisters' House and being able provide financial support via the Hyde Charitable Trust. I know that during the pandemic, the centre saw a high increase in the number of calls and visits received. I'm so pleased that the Hyde Charitable Trust has helped My Sisters' House to expand into a new centre. Well done to all the volunteers at Hyde – great teamwork!"
Dame Julie Walters DBE, Patron of My Sisters' House, officially opened the new centre on 2 December 2021.
Find out more on My Sisters' House website.