Back in March 2020, our staff and our partners braved the weather to complete Vitality's The Big Half Marathon through London. Together, we raised over £30,000 for Hyde's Ambition 2020 campaign. We started the campaign early last year to improve the lives of young people, their families and the wider community by working with them to create positive activities, safe places for them to connect, and opportunities for them to develop skills and knowledge.
For many young people today, the future can feel uncertain and opportunities scarce. Ambition is one of Hyde's core values – we want our staff to be the best they can be, and we want young people to have the opportunity to fulfil their potential.
During the pandemic, money raised through the Big Half allowed us to continue delivering valuable youth provision to young residents living within our communities. Here are some of the programmes Hyde Foundation has funded through our Ambition 2020 campaign over the past year:
Brent - Connect Stars
Connect Stars is a North London, Brent-based youth programme for young people aged 11-24, from the Stonebridge, Harlesden and Wembley areas. Connect Stars provides football, American football and multi-sports sessions after school during term time as well as in the school holidays.
In partnership with Hyde Foundation, Connect Stars also offers outreach activities with an extensive summer programme, as well as overseeing the Connecting Ambitious Leaders Movement (CALM). CALM is a youth-led initiative that brings talented and aspirational young people, aged 10-21, together from the Stonebridge and Church Road Estates.
Connect Stars are also one of the key delivery providers for the Detached Outreach Team (DOT), a partnership created to support young people and the communities of Brent throughout the pandemic.
This partnership offers additional benefits to the families of participants, as families can be referred directly to Hyde Foundation's money, debt and support services.
Chichester - Sylvia Beaufoy Centre – Petworth Youth Centre
The Sylvia Beaufoy centre has been the heart of the Petworth community for over 50 years, offering young people a safe space. The centre offers a range of open-access positive activities during the week and throughout the school holidays, for young people aged 8 to 19. Sessions are arranged taking account of the needs and interests of the young people who attend.
Over the last year many of the activities switched online, keeping young people entertained. For example, working in partnership with UK Harvest, the centre is delivering cooking classes to young residents – giving young people new skills.
As well as delivering online activities, the centre also delivers face to face activities (in line with government guidelines) focusing on sport, art, building racing cars and bike riding. The summer programme delivered over 200 sessions for young people.
Islington - Prospex
Prospex is a local youth charity, helping young people tackle underlying social issues using positive projects and training. It offers outreach, sports and centre-based activities for young people aged 11-24.
Prospex also offers community projects, including Kitchen Social, which has 60 food hubs across London.
In partnership with Hyde and Southern Housing, Prospex also leads weekly outreach sessions for young people. Prospex engages with young people on estates to support their needs, signpost them to local opportunities and encourage them to reach their potential. This could be through sports, further education, enhanced employment opportunities or just having someone to speak to.
Hyde Foundation has also co-funded, along with Southern Housing and the Mayor's Office for Policing and Crime (MOPAC), an outreach programme within the Ring Cross Centre in Islington, including to young residents living in Hyde Village. The project involves cooking lunches for young people who attend the sessions.



Lambeth - Active Communities Network (ACN)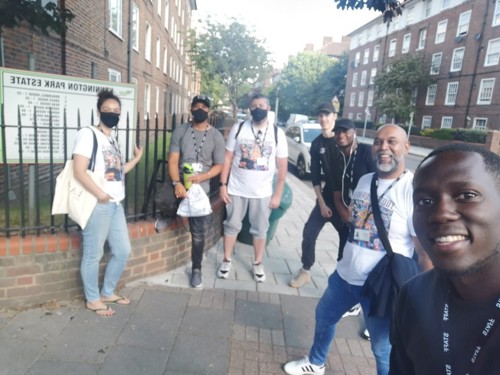 ACN is a national youth and sports development charity that has four core aims:
delivering high-quality grass roots sports and youth work projects
providing a workforce development and training function
improving skills
recognising sport as a way of impacting on communities.
Working in partnership with us, ACN provides youth employability projects and sports development provisions across Lambeth. ACN delivers outreach projects that are specifically tailored to address needs that have been identified in the community and to resolve local issues. It leads the Girlhood Active project on the Kennington Park Estate, working in partnership with Hyde and Henry Fawcett Primary School, to support girls and young women in the transition between primary and secondary education.
We are looking forward to continuing to work with our partners in 2021. If you would like more information check out our Successful Places programme.