Posted on 05 November 2021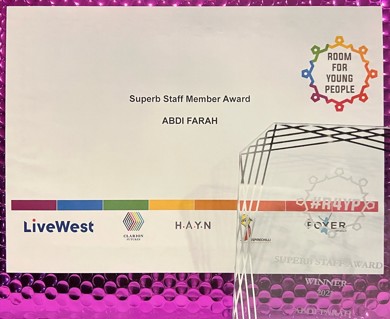 This week is National Youth Work Week (1 to 7 November). What better way of celebrating than by announcing that Abdi Farah, who leads Connect Stars – one of our community partners - won the 'Superb Staff Member' award in the Room for Young People Awards.
The awards, led by Clarion and Foyer Federation, with support from the Housing Association Youth Network (HAYN) celebrate the positive impact services are having on young people. Abdi's win recognises his hard work and his 'superb' and tireless efforts over the pandemic.
Abdi has led on outreach work, engaging over 2,000 young people, 7 days a week, throughout the pandemic. Brent was one of the boroughs hit the hardest by Covid, with some of the highest infection and mortality rates. Abdi has been at the front of the community response.
From the start he was out in the community promoting public health messages, encouraging residents and young people to stay at home. He worked with the local authority and other community leaders to respond to the very real crisis experienced by some residents. He leads on summer and half term support for over 200 young people per day with Jason Roberts Foundation and also offers welfare and employability support.
He initiated CALM (Collective Ambitious Leadership Movement), a youth leadership project, working in partnership with Catalyst. The project works across Stonebridge and Church Road, addressing long standing differences and conflicts between the two communities through developing youth leaders.
Safia Noor, Hyde's Successful Places Programme Manager said: "This recognition couldn't go to a better person due to his tireless efforts (and no break!) since the beginning of the pandemic. As well as working with young people, he also provides employment, benefit and housing related advice and support to residents who may not speak English, or those affected by long term health conditions.
"Abdi is a great ambassador for both youth and community work. His work is simply changing young people's lives. On behalf of Hyde, I would like to say 'congratulations' and thank him for his incredible work and dedication."
Abdi said: "It's a real honour to win this award as it shows that hard work, dedication and team effort are being recognised, not just from our beneficiaries but from wider partners and stakeholders.
"This award goes to the team as it's a team effort and I'm just fortunate enough to be the face of the organisation. Connect Stars would like to thank everyone that nominated us – the awards ceremony was great fun and it was a real privilege to be there."
Abdi's win was announced at a glittering award ceremony held at Birmingham, where a young person from Connect Stars joined him in the celebration.