Hyde resident Sarah McCarthy has been named a COVID-19 Community Champion, recognising her dedication to helping people affected by the coronavirus pandemic.
Sarah, who is chair of the Phoenix Community Tenants' and Residents' Association in Brighton, has worked tirelessly to support her neighbours by delivering food to them during the government lockdown, after the community fridge at Hyde's Phoenix Community Centre was forced to close its doors.
She explained: "Food is so essential for mind and body and there were all these scare stories about shortages, that I felt I had to get involved. Safia Noor, Hyde's Successful Places Programme Manager was really supportive and, once I had the support of Brighton & Hove City Council and local food partnerships, I was allowed to use the community centre as a base.
"Our staple food stock, including pasta, tinned goods, vegetables and potatoes, comes from Brighton & Hove Food Partnership. Before the coronavirus crisis took hold, they – along with food charity FareShare - were feeding roughly 400 families in Brighton. Now that's increased to about 4,000 families, which shows just how much need there is. We also receive donations from other people who live in Brighton and Hove who want to offer their support.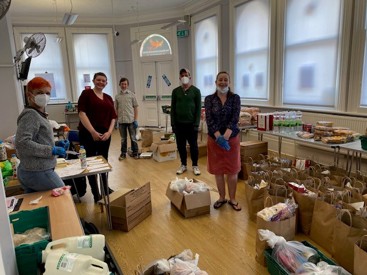 "We don't only deliver to people who can't afford food. There are also those who have the means to cover the cost but can't access shops as they are self-isolating or shielding. It's not just about food poverty, it's about accessibility as well.
One of the main groups of families being supported is single women with more than two children, who have told Sarah that without her help, they would not have eaten on some days.
"While delivering food makes me feel like I've achieved something, it's also sad to see people in dire straits," she said. "Often, I might be the only person someone shielding will see that day, so I'll stick around for a while to have a chat. One of the biggest groups that access food support are single people aged 25 to 50. That might be surprising, but most work in the gig economy or are furloughed.
"It's important to realise that many people won't refer themselves because they're worried they're taking food from somebody else. So, one of my roles is to encourage people that it's OK to ask for help. I've found people are not taking advantage – as soon as they are back on their feet, they let me know they no longer need food deliveries."
On being named a Covid-19 Community Champion by the Mayor of Brighton & Hove, Sarah said: "I was incredibly flattered to be nominated by Councillor David Gibson – I knew nothing about it. I'm lucky to work with really good people: everybody has been fabulous throughout the whole of the crisis."