Posted on 14 September 2021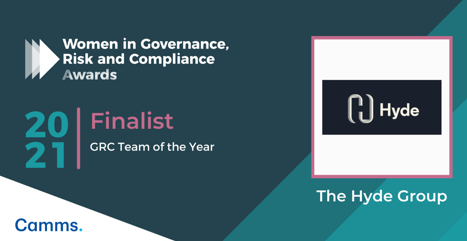 Hot on the heels of our success at the Women in Housing and Housing Heroes Awards, we are delighted to announce that Ashantel Lachhani, Hyde's Information Governance Director, and her team are finalists in the 'Team of the Year' category in the first ever Women in Governance, Risk and Compliance (GRC) Awards.
These awards honour female leaders, who demonstrate excellence across GRC. The aim of the awards is to inspire female working within the GRC sector, across the globe.
Stephan Lavollee, Hyde's Chief Information and Data Officer, said: "Ashantel and her team work brilliantly together. I'm thrilled they have been selected as finalists in the GRC Team of the Year category. The award recognises a team led by a female where each member plays a fundamental role in delivering success across an organisation. Being shortlisted recognises the huge impact they have made at Hyde in just under 12 months, and I know they'll continue to make a big difference. They're a great team of people delivering great results. Their shortlisting is much deserved."
We are up against big household names in the 'Team of the Year' category including the National Lottery Heritage Fund and BBC 50:50. Winners will be announced at a virtual awards ceremony, which is taking place on 13 October 2021.
Good luck to all the finalists!