Posted on 29 September 2017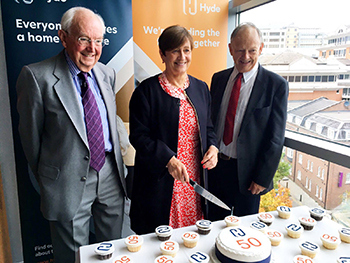 Our Chief Executive Elaine Bailey was joined by Hyde's founders and other special guests today for an event to celebrate Hyde's 50th birthday at the Group's head office in London.
Hyde was founded by three young professionals Michael Hollingsworth MBE, Ted Watts and John Childs in the wake of Ken Loach's ground breaking Cathy Come Home film, which tells the story of a young mother's decline into homelessness. As a result Hyde Housing Association was officially incorporated on 29 September 1967.
The three young men met in The Black Horse pub in Sidcup, following a talk at a Roundtable meeting by the Duke of Edinburgh, who tasked those present with making a real difference to their communities. From this meeting the idea to form Hyde was born and its mission - to provide people left behind by the housing market with a roof over their head - is as real today as it was fifty years ago. You can hear directly from our inspirational founders in our short film.
Speaking on behalf of the founders, Honorary Life President Michael Hollingsworth MBE said: "Our original ambition to convert two houses a year into four flats has grown beyond our wildest dreams. In no way could we have foreseen the immense progress Hyde has achieved nor the important contribution it has made and continues to make across the spectrum of social housing.
"It is now 20 years since I retired as Chairman of the Board, a role that I held for most of our first 30 years. I recall saying how proud I was of Hyde and how fortunate I felt to have been privileged to play a small part in its development. I can say today that my pride in Hyde is undiminished."
The founders joined Elaine to unveil a commemorative plaque which will go on display at Hyde's head office and meet fellow long-serving staff and board members, both past and present.
Elaine said: "Celebrating our 50th anniversary has allowed us the time to look back. We are proud to have grown from our first house in South East London in 1967 to a social business with around 50,000 homes. Every working day we house 11 families.
"But we are also looking forward. We want Hyde to continue to be as successful over the next 50 years – and in these uncertain economic times we want to be sure that we deliver our ambitions: to offer our residents a decent home, with easy to use services, in the most efficient way possible. We also want to increase the number of homes we manage and we will do this by generating more revenue and a larger surplus to reinvest into building more homes."
Watch Elaine and the founders share their thoughts on Hyde's 50 years in our short video.