Each fortnight there will be a draw for two prizes: £500 and £250 open to all residents who stick to the simple tenancy terms. Check out our latest winners from each month:
June 2018
Two draws this month took place on 11 and 25 June. Our £500 winners were Mr J and Mr G both from London. Second prizes of £250 went to Mr S, also of South East London and Miss M from Brighton who told us this unexpected windfall had "made her day".
May 2018
Draws this month took place on 1 and 14 May. Our £500 first prize winners were Mrs L of Kent and Ms S of Sussex, while second prizes went to Mrs H of Hampshire and Mr R of Chichester respectively.
Due to the bank holiday our last draw this month took place on 29 May and our delighted winner was Ms F of London who wanted to say "thank you to all at Hyde". Second prize went to Mr F of Chichester.
April 2018
Mrs T of Northampton was our winner for 2 April, she told us that she would be spending the £500 windfall on a much needed holiday. Second prize went to Mrs S of London who also plans to use the money towards a holiday for her and her daughters later this year.
The 16 April draw was won by Mr D of London and second prize to Mr F, also from London.
March 2018
This month two draws took place on 5 and 19 March. The first prize winners of £500 were Mrs A of London and Mr M of Sussex. Second prizes went to residents both in London; Miss G and Mr P each winning £250.
February 2018
Our first February winner was Mrs W of Chichester (5 February) who said "£500 is a big bonus to me. I will definitely treat myself , maybe starting with a trip to M&S!"
The second draw took place on 19 February, winning £500 was Mr C of London and £250 runner up was Mr W of Sussex who said he was planning to spend the money on a holiday to Crete.
January 2018
The first draw of the New Year was done on 8 January and our £500 winner was Mr D of Hampshire and runner up was Ms Q of London.
December 2017
The December draws took place on 11 December and was won by Mrs K of Chichester and second prize of £250 went to Mrs H of London who said she was very pleased as it will help her a lot just after Christmas!
November 2017
Mr B from London was our £500 winner for the draw completed on 13 November, he said "Thanks very much for the cheque it come just in time for Christmas." Second prize went to Mrs W of Chichester.
Mr and Mrs R, also of Chichester won first prize in the draw on 27 November, runner up was Mr S of Norfolk.
October 2017
The two winners of our 2 October draw were Miss H of Burgess Hill who was very pleased with the news, and Mr H of Chichester who takes homes £250.
Miss Y of Peckham who won the first prize of £500 on 16 October said: "You have made my day, this will really help with Christmas".  Miss C of East Dulwich was our £250 winner. 
Winners of the 30 October draw were Mr T of Croydon who won £250 and Mr B won £500.  
June 2017
In June we welcomed another winner from Chichester, Mrs C, (12 June), followed by Ms L of Brighton (23 June) who had previously updated her contact details via our simple online form and said she would use the money to celebrate her daughter getting a first.
May 2017
Mr A (2 May) from Kent (pictured) thanked our staff and advised he will be using the money to help with an overseas trip to visit his daughter.
Other May winners, both from London were; Mr Q (15 May) and Ms F (29 May) who said she would use the money to treat herself to a special holiday.
April 2017
Miss H (3 April) from London and Mr J from Hampshire (17 April).
Miss H (pictured) who was informed by our Customer Services team said "You are joking, you bring tears to my eyes. I am a lucky woman."
March 2017
This month's winner, pictured, (6 March draw) was Mrs P from Sussex who said "I am really surprised, but the money will come in very useful."
Ms K (20 March) from London has also has won £500 from our fortnightly draw, Hyde Rewards, simply by ensuring she complied with the simple tenancy terms.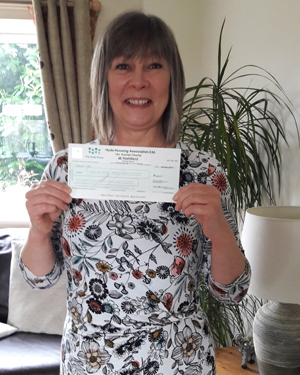 February 2017
Mr A from Chichester (6 February draw) who said he was delighted with the windfall and Miss H, also from Chichester, (20 February draw) who said "you have made my day, really cheered me up. Thank you."
January 2017
Our first ever lucky Hyde Rewards winners of £500; were Mr and Mrs A-S of Tonbridge and Mrs S from Chichester.
Mr A-S felt Hyde Rewards was an excellent idea for motivating residents to keep contact details up to date and keep their rent account in credit. Mr A-S, who contacted us to update his information earlier this month, was thrilled with his unexpected windfall and stated this would mean "an excellent start to the new year" for him and his family.
Mrs S, who had also recently updated her contact details via the online form, was our second lucky winner from the draw on 23 January 2017. She told the CS team, "You have made my day, I am still smiling now!"
Hyde Rewards Pilot winners
Our last pilot winner on 18 September was a surprised Mrs L of Forest Hill, London who is planning how to spend her Hyde Reward.
Miss S of Sussex (10 July) said she would use her £500 windfall to take her little boy on holiday. Other winners from over the summer months included, Mr H (7 August) , Mr V (21 August) and Mr B (4 September) who was our first winner from Norfolk.
Future winners will be announced on this page, following a confirmation call with our Customer Services team.