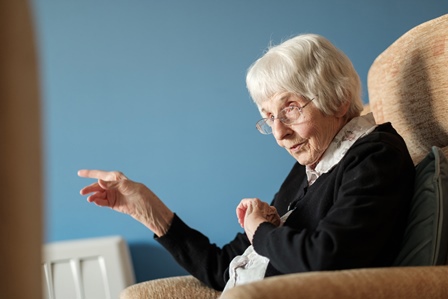 Gloria Moore, 94, was the first resident to move into St Leonard-on-sea extra care scheme, Marlborough House, when it first opened its doors in 2003.
And now, she is one of the first group to return at the beginning of 2017, following the fire three and a half years ago, which saw residents having to be relocated to other care homes in the vicinity.
She is proud to show off her immaculate flat, pointing out her pot plants on the balcony, and an attractive (pale blue) lounge wall: "I chose that colour myself; it goes well with the carpets. See, I've put rugs down to protect the carpets which are actually quite light."  
Previously, Gloria lived in a Hyde property with her late husband in St John's Road for 17 years. "We had a flat with a balcony and garden which was wonderful, but eventually getting up and down the hill was difficult."
She remembers the first time she saw her home in Marlborough House: "With the gorgeous views and the light streaming in, I knew I didn't want to live anywhere else."
Although the past few years have been unsettling, Gloria has tried to make the best of it.
"It was depressing living in a single room in Bexhill (after the fire), but I asked to be moved and was relocated to Sherwood House for about two years. This gave me the opportunity to buy new furniture and prepare for my return to Marlborough House."
Gloria once owned a stamp shop in London and is still interested in philately. As a Hospice volunteer, she enjoys sorting and packaging sets of stamps for the charity to sell.  
"It's heaven being back. I like looking out of one window and seeing the gardens in Warrior Square, and looking out of another and seeing the waves crashing onto the beach. It's also in the perfect position if you want to get some exercise. Shops and supermarkets are close and the station is nearby. There are buses galore!"