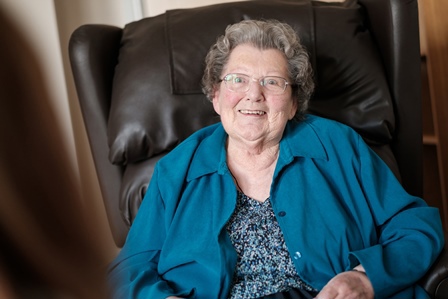 Coral Pritchett's smile lights up the room. The eighty-one-year-old is beaming more than usual because, she says, she's delighted to be home. And for her, 'home' is her treasured flat in Marlborough House, an imposing building overlooking the beachfront at Hastings.
"I never draw the curtains," she enthuses, "The sun wakes me up. The best thing is the position, the lovely views…"
She was one of 30 residents relocated from Marlborough House after a devastating fire in 2013. Although traumatic for many residents, Coral is pragmatic.
"It was marvellous the way they got us out (on the night of the fire). I had a six-foot-four policeman escort me out! I'm a fairly placid kind of person. It happened, it was difficult to be away, but now I'm back."
Coral had lived in Marlborough House for 10 years before the fire, having first moved into the extra care scheme as a carer for her mother. They had previously lived 'up the Square' in an unsuitable flat which required negotiating 14 steps to get to the road. "My mum has since passed on, but I was assessed as needing care, so now I live here by myself," she explains.
Coral, who had three boys, worked as a secretary until she got divorced.  She then became postmistress in her parents' Devon village before returning to the Hastings area when her youngest son was in sixth form.
All this experience, including a stint as an estate agent, stood her in good stead when the Marlborough House Residents' Association was first created and she became Secretary.
When Coral moved back into her flat in January 2017, she was the second of the original residents to return: "I'm happy and relieved; I'm gradually getting everything unpacked."
Of the new refurbished Marlborough House, with its lounges, hair salon, IT suite, laundry, buggy store, meeting rooms and café, she says: "It's got everything I ever need; it's better than before."