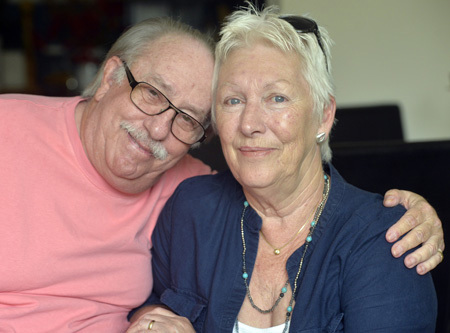 Having an apartment suited to Bobby's needs means he and Rosemary are free to do their own thing.
Hyde's supported housing has given Bobby the independence he needs after becoming disabled.
Three years ago Bobby (67) suffered a massive heart attack and lost one of his legs to septicaemia. The medical bills were astronomical and finding a suitable place to live for him and his wife, Rosemary (65), was difficult.
"We both had extremely successful radio and television broadcasting careers in Eastern Europe over the past 35 years and we've always been very active. It has been a huge adjustment for me to go from being able bodied to being disabled; losing a part of your body is like losing someone – it's been a grieving process for me," said Bobby.
Moving into Bellerophan House, an extra care housing scheme in Rochester, Kent, almost two years ago, was a godsend for the couple.
After paying all the medical bills, buying a property was not an option, and the rented properties they were shown were totally unsuitable for Bobby.
"There are so few places available with the facilities we need," explained Rosemary, "We had no option but to take a flat in Chatham for six months before being offered an apartment here."
Before, Bobby was unable to manoeuvre his wheelchair. "I couldn't get in and out of places like the bathroom and kitchen. But now, having mobility has given me back my independence. And being able to do things for myself helps Rosemary get on with the things she has to do. Now, I can get up, shower, go out of our front door, down in the lift and be outside the building or even on the High Street in no time at all."
He continued: "Supported housing is so important; I think housing associations like Hyde are doing a brilliant thing. I just feel that disabled people should be consulted more on the actual build of schemes… sometimes all it takes are a few design tweaks to make life easier for us."
Rosemary said: "We're busy people with a lot going on in our lives. We're very independent; we don't need the outside support services, such as carers, that other residents might require. But, having the apartment geared up to suit Bobby means we're free to do our own thing. The security aspect is important – we can go away and not worry. If we hadn't got in here, I honestly don't know what we would have done."