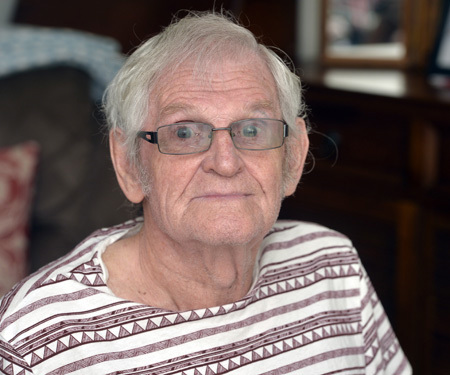 When Bill fell and broke his back, it changed his life forever. Now he is grateful to be living in our extra care scheme where he is looked after by on-site care staff. 
Bill (76) had an accident in 2012 which saw him break his back, paralysing him from the waist down. Now, he spends most of his time in his wheelchair or in bed.
"I spent three months in rehabilitation at the special orthopaedic hospital in Stanmore, London where I was taught things like how to use my wheelchair correctly," he explains.
Bill was already living alone in sheltered accommodation when he had his accident.
"When I finished up Stanmore, I was brought back to my flat. But even though it was sheltered accommodation — with ramps and a lift — I still couldn't get in with my wheelchair…it was too small."
He was then moved to Platters Farm Lodge, a respite care home in Gillingham, for a further six months.
"My case manager discovered Bellerophon House and my daughter came and looked at the accommodation. In May 2013 I moved in."
Born at St Bartholomew's Hospital in Rochester, and having lived in the Medway towns his whole life, Bill is pleased to be able to stay in the local area.
"This is a special flat, all custom-built for a disabled person in a wheel chair; the kitchen cupboards are much lower than normal ones and I have my sink taps on the front of the units so I can easily reach them," he explains, "I have emergency buttons throughout the flat to raise the alarm if necessary and my carers actually live on the premises 24/7."
Bill is "very, very happy" in his home.
"This is the happiest I have been in a long time. People here are nice – they talk to one another.
If I hadn't got this opportunity to have a place of my own, I'm not sure what would have happened. Perhaps I would have had to go and live with my daughter. But that would have been difficult because nurses and carers have to attend to me every day. I need to have help getting into bed, bathing and when I stand in my hoist…a carer has to be present throughout.
Hyde's supported housing is everything to me. I know I have to be looked after, but I also want my independence. I want to be able to go into my kitchen and use my microwave or go downstairs into the communal lounge for a coffee morning. Sometimes my granddaughter comes to get me and she pushes me around town in my wheelchair."