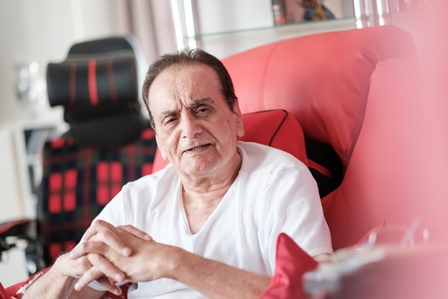 Aslam Khan (70) is one of Marlborough House's most inspirational residents. Not only does he radiate positivity, he is well-known for his generosity of spirit. Despite being in constant pain, he says he 'can't sit still'; when the weather is good, you're likely to find him out and about on his buggy with friends.
"Marlborough House is very special: we've always been like one big family… residents, staff and management. We're looking forward to welcoming all the new residents into the fold," he explains.
One of the original residents to have returned to the landmark building in January 2017 after a major fire three-and-a half years ago, Aslam is settling in and is savouring being back home.  "It feels as though I've never left. I'm so pleased it's been fully restored, and it's better than ever."
Aslam has an intriguing family history. Surrounded from an early age by a strong film influence - through his mother who was a producer of 'Born Free' -  it comes as no surprise that he became a film producer, working with international stars like Elizabeth Taylor and being mentored by legendary producer/director Michael Winner.
Before the fire, Aslam created a movie club for all residents to enjoy. His authentic 'pop-up' cinema, with popcorn and drinks, was the pride of Marlborough House with movies, news reel and trailers projected onto a 15 foot screen every other Sunday night.
Aslam also created an eagerly anticipated monthly residents' magazine with news, cartoons, crosswords and puzzles, and was instrumental in bringing residents together to celebrate special occasions like the Queen's Diamond Jubilee and the London 2012 Olympics.
"We even held a Red Carpet Night where everyone dressed up in their finery, some even donning flashy jewellery and feather boas! Just because we're elderly, it doesn't mean we can't have fun. In time, we should be able to go back to those good old days of Marlborough."
Aslam also created the popular 'MH Residents Services' which provided residents with things like personalised birthday cards, DVDs, music and photos. "I'd like to bring that all back.   As long as we're all upbeat and optimistic, Marlborough House will be the best place to live, ever."