We want all our customers to know, that we're more than just a landlord. We're here to help.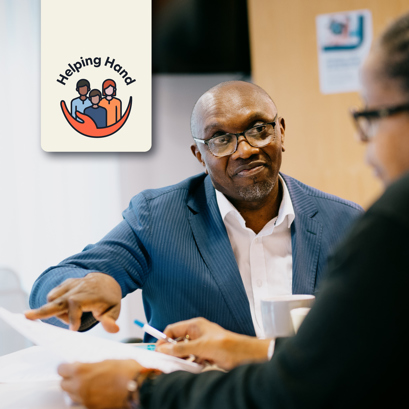 Research shows that falling into rent arrears is often unavoidable, and due to factors such as fluctuating income, or large unexpected costs. It's our priority to help you remain in your home and thrive. That includes helping you with financial advice and support.
We're your helping hand for making sure you're getting all the right financial benefits, navigating Universal Credit, and managing your money.
​If you're in need of any specialist assistance, please contact us as soon as possible.
Find out more about:
MyAccount is our free, safe and secure online tool that can help you manage your rent account. You can easily view your rent balance and make payments. 
Money management
There are lots of ways you can help yourself, and other places that can provide free debt advice and assistance. From budgeting tools that we've created, to expert advice from other sources, like the Money saving expert.
Hyde Helping Hand
The best way to let us help, is to get in touch and talk to your Income officer. However, here are some tools we can offer, so you can help yourself.
If you're looking for work, we can also help with jobs and training advice.
What else is out there?
Energy and utilities
Energy costs have risen significantly recently, as a result of increased gas prices, and you may have seen your bills go up.
More advice on energy saving and places to apply for relief:
Debt advice
Being in debt can be very stressful, and feeling like we're not in control can be overwhelming, and extremely damaging to our mental health. Here as some quick tips:
Do a budget to work out how much you're able to pay

Make a list of who you owe money to

Contact the most important creditors to set a payment plan. Rent is the most important thing to pay and we're happy to work out a payment plan that you can afford. It's our priority to keep you in your home
If you work from home because the organisation you work for doesn't have offices for you to work in, you can claim tax relief. It's a simple process through the GOV.UK website. You can claim even if you only work one day from home.

Return to top
Helping Hand news: