Performance figures for April 2020 – June 2020: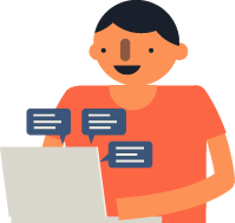 In addition to the summary of our performance for last year, we can share with you some details from the first part of this year.
April to June this year has been an extraordinary period for everyone. In many ways, the story of our performance is our response to COVID-19 and how teams have adapted services to continue to serve customers through a very difficult time.
We know from feedback our customers have appreciated clear messages of support about managing rent payments, access to advice and help from our Hyde Foundation team. Volunteers from our teams made over 30,000 outbound welfare calls to check on customers who might be vulnerable.
Throughout lockdown, we continued to provide a limited 'essential' repairs service. This has meant from July we have been able to reintroduce our full repairs service without a backlog and long delays for customers. 
Our regular approach to surveying customers about their experiences of our service has been interrupted. During April, only gas repairs satisfaction and complaints satisfaction were recorded. We quickly added back in other service areas, and July has seen the resumption of repairs satisfaction surveys, our biggest volume customer satisfaction survey. Moving forward, we will be able to offer reporting on our full customer survey programme.
We do have some headlines for the first three months of the year to reflect upon:
Overall service satisfaction, based upon a range of customer satisfaction surveys is 84%
Overall satisfaction with how easy are our services scores 73%
Satisfaction with complaints was 61.5%
Satisfaction with our anti-social behaviour service up to June 2020 was 67%. During lockdown, our team received 45% more reports of anti-social behaviour than normal
Satisfaction with gas repairs was 90%
We will present our half-year performance in October 2020, based upon the feedback we receive from customers to what is published here.