I always wanted to help others, but I wasn't sure how. Hyde has given me the 'how'

Robyn St. Louis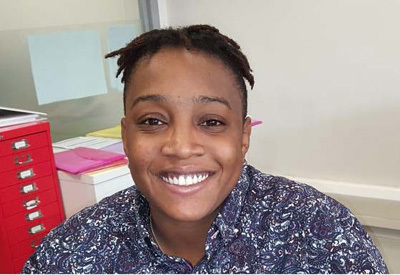 Since joining Hyde's second cohort of apprentices in 2014/15, Robyn St. Louis (22) has been on a mission. "My goal was to become a housing officer, and now I am one! I'm so proud of myself," she says. 
And so is her mother. Robyn's mum - a Hyde leaseholder – spotted an advertisement calling for apprentices and encouraged her to apply. 
"It changed my life. It changed my attitude," she says, "I was working in retail and, at the time, had no idea someone like me could even get into housing. I didn't go to uni, didn't really excel at school, so I didn't think it was possible…" 
Then she was accepted onto the apprenticeship scheme. "Before my place was even confirmed, I got the opportunity to speak to some of Hyde's very first apprentices. That convinced me I could do it!" 
During her first few weeks as a customer service apprentice, she got to shadow a number of housing officers. "And that was it! I thought, yes, that is what I want to do. I said: In two years' time I will be a housing officer!" 
So after a year in customer services and six months working in resident services admin, Robyn applied for her dream job. She took up her new role as a housing officer in Stockwell in January 2017. 
"It's been great having a background in customer services, but I absolutely love having my own patch. Now I have the ability – and flexibility – to get out there. To actually visit a tenant's property and see what the issues are. And if I've got vulnerable tenants, I can go and see them, they don't need to come in to the office. 
"I love it because I'm always busy; there's never a moment where there's nothing to do. No two days are ever the same." 
She says her colleagues are extremely supportive. "It's still early days for me… So anytime I need to be pointed in the right direction, whether they are busy or not, people always go out of their way to help me. 
"I appreciate my team so much. They welcomed me with open arms from day one; I have never felt like an outsider. And there's never a dull moment; there's always a laugh. It feels like a family unit." 
She feels fortunate to be valued by Hyde. "Hyde gives you the opportunity to be what you want to be; regardless of your age or your qualifications, it pushes you to be your best." 
"From the very first day I came through doors, I knew Hyde was a company where you could progress. Now I look around and see what other apprentices have done, what I have done… So for me, I now know I can do anything I put my mind to."  
Robyn also feels appreciated by tenants. "One tenant I visited told me she'd heard good things about me; it makes me happy to know I'm making a difference and it's being recognised; that they have someone to believe in, trust in. I want them to know that I'm there, Hyde's there, to give them a helping hand." 
It's been important to Robyn, to have people believe in her. "It's been amazing: even those who didn't know me so well have maybe seen something in me. Their faith in my abilities has helped me rise to the challenge." 
She welcomes the many opportunities at Hyde to improve, to gain qualifications and to progress her career. "There are so many ways to get ahead here. I will be looking into all the wonderful CIH courses. I definitely see myself in resident services; I'm a people person who likes to be interacting with tenants. I always wanted to help others, but I wasn't sure how. Hyde has given me the 'how'.