Monday 10 July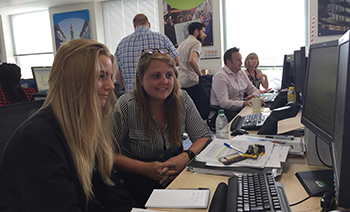 I am in Year 10, and I am going to have one week of work experience with the Communications team at the Hyde Group. During my first day, I have met a lot of the people already and they are very friendly.
I went to two different meetings – the first one was with Strategy and Business Intelligence, and the second one with Human Resources which I found very interesting because I could engage as the meeting was based on social media, and personally I find social media very important.
In the afternoon, I met the Home Ownership team and it was very useful for me to learn about the legal side of housing from Kat, the Home Ownership manager. I was also lucky that I got to walk around Borough Market in my lunch hour.
Tuesday 11 July
Today, I did some user testing for the Hyde Group website so that the public find it easier to find the information that they need. I tested for popular searches from Google, from the search on the Hyde website, and using the A to Z. Most of the results took me to the right page but there were a couple of times where a few changes could be made.
I also learnt about how the new Hyde brand was created, which is interesting for me as I'm studying Graphic Design for GCSE.
Wednesday 12 July
Today, I came to the Hyde office in Chichester. I joined a training session that the Digital Communications team were giving to new web editors, where I learned how to use the content management system to make my own webpage which was fun.
I also learned about the content of webpages and how to reduce unnecessary content in order to make it more user-friendly.
Thursday 13 July
Today I attended the Lambeth Food Flagship event at the Oval cricket ground with Sarah from the Hyde Foundation team. I found it very interesting because I found out about the Mayor of Lambeth's health journey which was quite fun to listen to.
In the afternoon I went to Stockwell with Sophie from the Hyde Foundation, and got to draft some tweets to promote their summer programme and design a poster on a computer - and I really enjoyed it.
Friday 14 July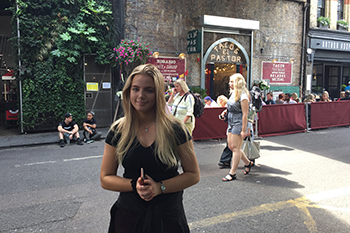 Today I came to Lewisham and listened in to some Hyde residents calling into customer services, it was very interesting as I had never done that before. Many of the calls I listened to were about rent questions and repairs, and I thought the Customer Services Officer Michelle was very good at helping the residents with their queries.
I also worked on some social media posts for UK Employability Day 2017, and then finished off my work experience diary for the website.
Overall I would personally say that I have had a very fun, yet challenging week with the Hyde Group. I learned lots of new things about social media, graphic design, housing and lots more.
It has made me start to think about my future career choices, and I would recommend the Hyde Group as a work experience choice because there are so many different parts of the business to see, and you will definitely never get bored.
Return to Jobs at the Hyde Group