We believe that social housing creates sustainable communities. It reduces the burden on emergency services, healthcare and local authorities. It saves the government money and boosts the economy. It can improve millions of lives, help people fulfil their potential and contribute to their community. Based on extensive research and analysis, we've calculated that the total annual social value brought by each tenancy we have created is at least £21,001.
Our ESG report focuses our social contribution in three main areas: our staff, our customers and our supply chain.
Across these areas, we measure eight core metrics which are underpinned by a full ESG framework. We then publish our progress and performance against these core measures via our ESG dashboard which is included in our ESG summary report: Performance, Progress and Impact (PDF, 2.1MB)
Staff
To understand our social value to more than 1,000 Hyde employees, we have adapted a methodology developed by the Good Jobs Institute, a social enterprise that helps companies and investors understand performance and employee needs. These include fair pay and flexible working hours; a workplace that is safe, inclusive and which supports diversity; and good training and opportunities for career advancement.
Our customers
We have analysed the social outcomes for our customers according to five criteria: financial wellbeing, physical wellbeing, mental wellbeing, relational wellbeing and purposefulness. These are called the 'five pillars of wellbeing'. We then use a set of criteria to measure and report our social impact. These measures include providing decent homes, affordable homes, responsive services and community impact.
Suppliers and social value
We use our supply chain to become more competitive and improve the economic and social conditions of the communities we operate in. We deliver shared social value by encouraging and supporting local and responsible business growth. We prioritise employee wellbeing through fair and sustainable pay. We expect suppliers to follow our social values and practices.
We pick suppliers whose values and objectives align with our own. This means:
Engaging with responsible suppliers that treat their staff well and are in sync with our values
Supporting local growth amongst responsible businesses – bringing economic gain that can sustain the pay of fair rewards for staff, and support the communities in which they live and work
Healthier, safer and more resilient communities – enabled through encouraging supply chain partners to contribute to them, in cash or in kind
Safeguarding the environment – supply chain partners are encouraged and enabled to develop.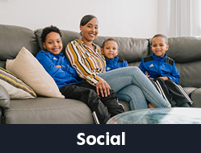 Find out how our work supports sustainable housing in our case study.
See also
Environmental - performance, progress and impact