As a social landlord with around 50,000 homes, the decisions we make about how we build and maintain homes, and how we operate day-to-day, can have a big impact on the environment. For example, our offices and corporate transport emitted 1553 tonnes of carbon in 2019-20.
We are committed to reducing operational costs and carbon emissions across our offices to help us achieve our target of producing "net zero carbon emissions" by 2050.
As well as helping to ease climate change and protect the planet, there are significant benefits to customers from living in energy efficient homes, including lower home repair costs and energy bills, and better health (due to less risk of mould and damp).  A healthier home environment brings further benefits, including better academic attainment in children.
We will report on environmental impact against eight core measures, some of which will also be used to measure our social impact. The measures for our environmental impact and performance include how satisfied our customers are, and the performance of our employers, suppliers, and investors.

Our core metrics are underpinned by a full ESG framework. We then publish our progress and performance against these core measures via our ESG dashboard.
We have set targets for our environmental performance based on three things: climate stability, resource security and healthy ecosystems (see below). Within these, we have set additional targets, including energy efficiency for our existing and new homes, protecting homes from floods, and protecting biodiversity in our housing developments.
Climate stability
Energy and carbon efficiency. Existing homes make up 87% of our operational emissions. Making energy-saving improvements, such as insulating walls and roofs, or using renewable energy such as solar will save energy, will reduce our carbon emissions – and create savings for customers.
Adapting to climate change. As the climate changes, the risk of flooding increases. We are making changes to new and existing homes, including drainage systems to manage surface water flooding and ventilation systems to stop properties from overheating.
Resource security
Efficient use of natural resources. Building new homes, refurbishing them, and running multiple office spaces produce large volumes of waste. By adopting the "circular economy" concept, we aim to reduce the amount of waste created, reuse any waste and if waste can't be reused recycle it. We will work with contractors to set targets for reducing waste and require our contractors to do so.
Water efficiency. We also plan to reduce water consumption in our buildings, which would reduce customers' utility bills and our operational costs. We will install water meters in homes and water efficient taps, showers, and toilet cisterns to help.
Healthy ecosystems
Protecting air, land, and water. We will review how we build and manage homes to mitigate environmental risk to air, land and water and protect them from accidental harm. We will ensure our procurement and contract management approaches help us deliver best practice environmental management.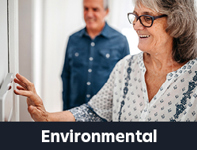 Find out how our work supports sustainable housing in our case study.
See also 
Social - performance, progress and impact