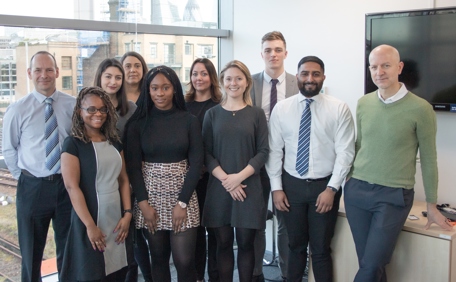 Hyde currently employs approximately 1,100 people across London, the South East and Peterborough. Our staff play a fundamental role in our vision to provide a great home for everyone, and we're committed to building a more diverse and inclusive workforce that is reflective of the communities we work in.
This report looks at our current gender pay gap and helps us identify the work we still need to do. The data provided is accurate as of April 2019.
Our results
The following calculations make up the information required for statutory reporting.
Mean
The mean shows the difference in average hourly pay between men and women.
Our mean gender pay gap is: 10.1% (lower for women) 
Median
The median shows the difference between the middle paid woman and middle paid man.
Our median gender pay gap is: 2.6% (lower for women)
Pay quartiles
This is where all the salaries – both men's and women's – are sorted by size and divided into equal quarters. The pie charts below show how men and women are spread throughout the organisation by hourly pay, from lowest to highest:



 
 
Bonus pay gap
Our mean gender bonus gap is -6.1%.
Our median gender bonus gap is 0%.
The proportion of employees who receive a bonus is:
Understanding our gender pay gap
Our gender pay gap is lower than the UK average (based on the 2018 published data) and has also seen a decrease from 13.9% to 10.1% since the 2018 reporting date. In the same period Hyde's median gender pay gap has remained at 2.6%.Our results also show that women make up 54% of our staff base, yet we have proportionally fewer females in higher paid senior roles - the top quartile.
Our analysis suggests our gender pay gap does not stem from paying men and women differently for the same or equivalent work, but rather it is due to females being under-represented at these more senior levels.
The proportion of females in Director roles, Executive Leadership Team and Board increased from 54%, 43% and 18% respectively at the 2018 reporting date to 56%, 75% and 27% at the 2019 reporting date.
Our gender bonus gap
Hyde has a negative gender bonus gap. The mean gender bonus gap shows that women are paid 6.1% more than men, and the median gender bonus gap is 0%. There is also a higher proportion of women receiving a bonus compared to men – 92.2% and 86.9% respectively.
Our BAME pay gap
It is not mandatory to measure the BAME pay gap, however, we have been making the calculations since 2018 in order to identify and address any issues.
We have used the same calculation principles as the gender pay reporting and excluded employees who have decided not to share their ethnicity. 
Our mean BAME pay gap is: 15.7% (lower for BAME employees) 
Our median BAME pay gap is: 5.5% (lower for BAME employees)
A key factor in the BAME pay gap is also under-representation at the more senior levels.
How we're looking to close our gender and ethnicity pay gaps
We value the diversity of our staff and know that there is more to do. Since reporting in 2018, we have undertaken several activities that focus on closing the gender and ethnicity pay gaps:
Hyde Aspire, our women's network, has received considerable interest from our female staff. Following two successful initial events, the network will meet quarterly and focus on career development.
An 'Unconscious Bias' module was added to our Equality and Diversity online training, which is mandatory for all staff.
We ensured that all recruitment shortlists contain a mix of male and female candidates and that they are as ethnically diverse as possible (an extension of the Rooney Rule).
Talent programmes have continued to be monitored to ensure women and BAME are appropriately represented. We have identified a higher proportion of women as talent compared to the proportion of women in the business.
We have signed up to 'Leadership 2025', which aims to support and empower BAME senior professionals to become sector leaders of the future and has a long-term ambition of supporting the creation of a housing sector that is vibrant and diverse at all levels.
Our dedication to increasing the representation of females and BAME employees is ongoing, and we plan to implement the following:
Raise awareness for recruiting managers by:
Ensuring that gender and ethnicity reporting is included in regular HR reports
Ensuring more accountability sits with directorate leads to address the gender and ethnicity pay gaps - helped by more visibility of this data; and
Continuing to ensure all shortlists to contain a mix of male and female candidates and that they are as ethnically diverse as possible and introduce reporting to track this.
Ensure fairness by monitoring:
Starting salaries and in-year salary increases for any emerging trends or bias; and
Talent programmes and recruitment to ensure women and BAME employees are represented accordingly.
Support career development by:
Continuing to promote talent programme opportunities to women and BAME employees identified in the wider talent pool; and
Continuing to promote our career builder tool specifically though the Hyde Aspire and continuing to use this network to encourage women to develop their own careers.
Diversity and Inclusion will form a key part of our 2020-23 People and Culture Strategy, and we look forward to continuing our journey of building a more diverse workforce. 
Peter Denton
 
Chief Executive Officer